Best value phones of MWC 2016: PhoneArena Awards
8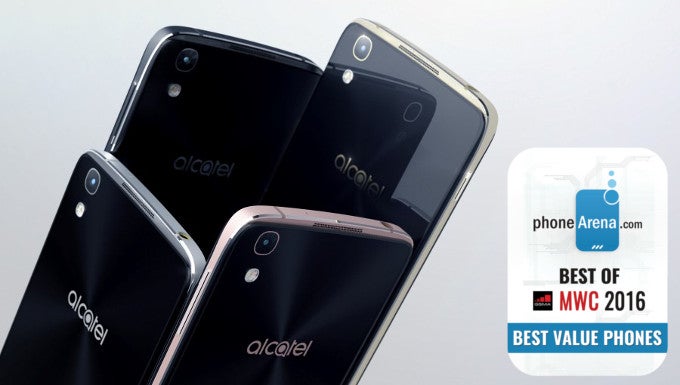 Not all phones are made equal. Some are made to impress with specs, design, and user experience, even if that translates to a steep price. Others are made to be as affordable as possible, which is achieved primarily by using lower quality components and build materials. Then there are the phones aiming to nail the perfect balance between price and features. These are the phones we'll focus on today.
While exploring the MWC show floor, we had the chance to see a great number of new smartphones, mostly high-end and mid-range models. The
Samsung Galaxy S7
,
LG G5
, and
Xperia X Performance
, for instance, were three of the top phones on display. And the
HTC One X9
and
Sony Xperia X
were two of the better mid-range models being shown off. But the best value phones, in our opinion, were these few handsets.
Best value phones of MWC 2016: Alcatel Idol 4 and Idol 4S
Priced at around $280, the 5.2-inch Alcatel Idol 4 is looking like a great buy. So is the bigger, 5.5-inch Alcatel Idol 4S, which is going to be priced between $400 and $500. In return, you get a phone that's beautifully made of glass and metal, with
two
pairs of stereo speakers and the unique ability to work upside down. Yup, you may pick the phone whichever way you like – the software figures out which microphone and earpiece to enable.
And it gets even better. The Alcatel Idol 4 and Idol 4S come with specs more than adequate for their price. We're talking Snapdragon processors, good amounts of RAM and storage, high-resolution displays and cameras, large batteries, and all of that with Android 6.0 Marshmallow on top. Seriously, these two phones are definitely worth checking out.
Runner-up: Sony Xperia XA
This isn't a phone that will impress you with its specs sheet. The hardware packed inside the Sony Xperia XA can be called mid-range at best. But the design of the handset will surely draw your attention. In fact, we honestly think that this is the best looking Xperia X-series phone so far. It is thin, light, narrow, and the near lack of side bezels around the screen makes this a premium-looking handset. We will be able to take a closer look at this beauty in June, when it is released on the market for less than 300 euro.