Best portable battery packs for Samsung's Galaxy S6 and S6 edge
12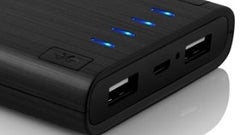 Unlike Samsung's previous flagship handsets, the
Galaxy S6
and
Galaxy S6 edge
do not have removable batteries. Thus, in case you're in a situation where there's no power outlet around, and you don't have
a case that doubles as an extra battery
, there's not much that you can do to keep your S6 alive when its battery is dying... unless you have a portable battery pack / power bank.
Since you own an expensive, premium smartphone like the Galaxy S6 or Galaxy S6 edge, you'll probably not want a cheap, no-name battery pack to stand next to it. You'll want an accessory that looks good, while also providing enough power to charge your handset at least twice. We think the portable battery packs that we've included below can be perfect companions to the S6 and S6 edge. Check them out:
Are there other portable battery packsthat you'd use (or are already using) with a Galaxy S6 or Galaxy S6 edge? Let us know in thecomments section!