Best new games for iPhone, iPad and Android for September 2012
4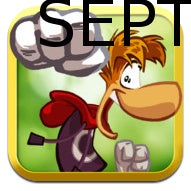 Wow, what a September for new games! Jaw-dropping graphics, amazing gameplay and tons of new releases are starting to wet the soil for what seems like a new wave of mobile games that are starting more and more to match consoles in quality and depth.
We've put the most popular releases first - games like Bad Piggies designed in a good old Rovio fashion and Jetpack Joyride that has just arrived on Android.
If you care more about 3D graphics, though, there is really a lot to check out with releases like Avengers Initiative, God of Blades and so on. Really, it seems that we've got amazing new additions in almost every genre, but we won't spoil it for you - check out our selection of the best games for Android and iOS for September 2012.