Best new Android and iPhone games of the week (October 13th - October 19th)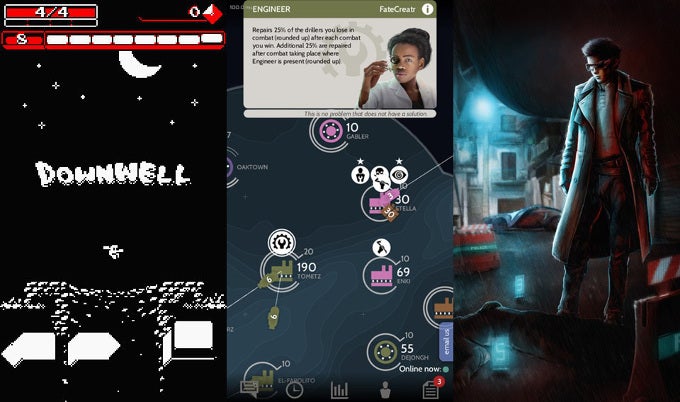 Let's start off the week with some fun with the best new Android and iPhone games for the past week!

In our weekly round up of the best new Android and iPhone games we introduce you to everything new and worthy with no limits to the genre, platform, or price. We can't guarantee that you'd love the genre of the game we've picked, but if you do, chances are you'd spend hours playing one of these games.
Overwhelmed with amazing new games
It's the busiest season for phones and the same applies for games: we're just overwhelmed with great new releases. The big highlight of this week is the release of NBA 2K16 on mobile with improved graphics and gameplay, but it is actually another title that got the top spot in our round-up, and if you're not a sports fan there is plenty more in the list below. With no further ado, take a look at our selection of the best new Android and iPhone games of the past week right below.
Downwell
Genre: Action
Downwell is a curious game about a young boy venturing down a well in search of untold treasures with only his Gunboots to protect him. Make your way further and further down into the darkness filled with nasty creatures and mysterious secrets to collect the spectacular red gems scattered about the rocks. Step into precariously placed shops and buy some helpful items or level up between levels to battle well-dwelling monsters and uncover hidden caves filled with riches and relics. No two trips down the well are ever the same!
NBA 2K16
Price: $7.99
Genre: Sports
Days before the tip-off of the 2015-16 NBA season, NBA 2K16 has arrived on both iPhone and Android. This year, it is Steph Curry that is looking at gamers from the title image and that's quite the deserved mention for the point guard who was the main contributor to the Golden State Warrior's first title in quite a while. NBA 2K16 comes with better graphicsAs to the game itself, NBA 2K16 features the new rosters, improved graphics that add more realism to the gameplay, as well as a neat new soundtrack with a heavy hip-hop influence and vibe.
Minecraft: Story Mode
Price: $4.99
Genre: Adventure
In this five part episodic series, you'll embark on a perilous adventure across the Overworld, through the Nether, to the End, and beyond. You and your friends revere the legendary Order of the Stone: Warrior, Redstone Engineer, Griefer, and Architect; slayers of the Ender Dragon. While at EnderCon in hopes of meeting Gabriel the Warrior, you and your friends discover that something is wrong… something dreadful. Terror is unleashed, and you must set out on a quest to find The Order of the Stone if you are to save your world from oblivion.
Subterfuge
Price: Free
Genre: Strategy
Subterfuge is a week-long multiplayer game of strategy and diplomacy that plays out in real time. Gather intelligence, coordinate with other players, issue orders, and influence how the game unfolds. Master both strategy and diplomacy to come out on top.
League of Stickman
Price: $0.99
Genre: Action
League of Stickman is an action fighting game revolving around the times when the Shadow Minions overwhelmed humanity's greatest cities and plunged the world into darkness. But as mankind's last rays of hopes were swallowed by the swelling tide of Shadow Minions, a secret alliance of shadow stickmen were roused from their slumber. Ancient warriors, sworn to do battle against the Shadow Minions were raised from the same darkness, weapons and magic in hand. The League of Stickmen bands together once more to banish the Minions to the shadows. The time has come to defend humanity, and to restore order to the world.
Viva Sancho Villa
Price: $3.99
Genre: Hack & slash platformer
Viva Sancho Villa is a Mexican hack & slash action adventure platformer, where you play as the revolutionary hero Sancho Villa. Using your bonecrushing machete and legendary revolvers, liberate Magico's land from the corrupted forces of evil in this revolutionary saga of war and folklore. Get immersed in a surreal world of music, traditions, mythology, arts and crafts while you travel through colorful towns, dangerous fields, uprising villages, haunted forests and much more.
Osiris Battlefield
Price: $5.99
Genre: Space action
In Osiris Battlefield you are man's last hope against utter extinction. Located on a distant colony in the Osiris system, you must defend your base at all costs using anything you can to hold back the relentless alien threat. Survive as many days as you can protecting 8 immersive zones across your base colony. Search abandoned mines, protect giant power plants, or go deep into alien hives searching with your flashlight.
Ratings War
Price: $2.99
Genre: Interactive novel
"Ratings War" is a 80,000-word interactive novel by Eddy Webb, where your choices control the story. It's entirely text-based--without graphics or sound effects--and fueled by the vast, unstoppable power of your imagination. Outwit your rivals at the biggest news network in the industry to win market share and dominate the ratings. As one of the first reporters with a pair of cybernetic eyes, you'll break stories while you live them—and become a celebrity when you uncover a vast criminal conspiracy.
Heroes Reborn: Enigma
Price: $4.99
Genre: First-person
Heroes Reborn Enigma is a first person action-puzzle game. It tells a story where the world has become a dangerous place for EVOs - evolved humans gifted with supernatural powers. You become Dahlia, a young woman with incredible powers, that you must learn to control to survive and escape your imprisonment at a secret government facility.
In Fear I Trust
Price: $2.99
Genre: Horror
How did you end up in this place? Escape from a terrifying facility and piece together the horrific events that led you to become a test subject in a mysterious experiment in this horror game.
Super Sharp
Price: $1.99
Genre: Puzzler
Cut with skill to complete the 120 physics levels of Super Sharp and become a cut master in this casual and fun new release.
The Balloons - Endless Floater
Price: Free
Genre: Casual
Join the heroes Blue, Unicorn, Ghost, Frog and even Dead Bird and avoid obstacles like deadly spikes, dastardly dart shooters, and even flying ninja stars. Collect as many coins as possible on your way to some seriously mind-blowing high scores.
The Mammoth: A Cave Painting
Price: Free
Genre: Visual novel
In The Mammoth: A Cave Painting you tell the 5 million year story of the mammoth in 5 minutes. Inspired by prehistoric cave-paintings, it acts out a story written on the wall of a cave: search for your lost herd on the wide plain, gather and protect your children, but also struggle with human hunters.