Best in the Midwest: Verizon beats T-Mobile and AT&T in regional LTE coverage and speeds
14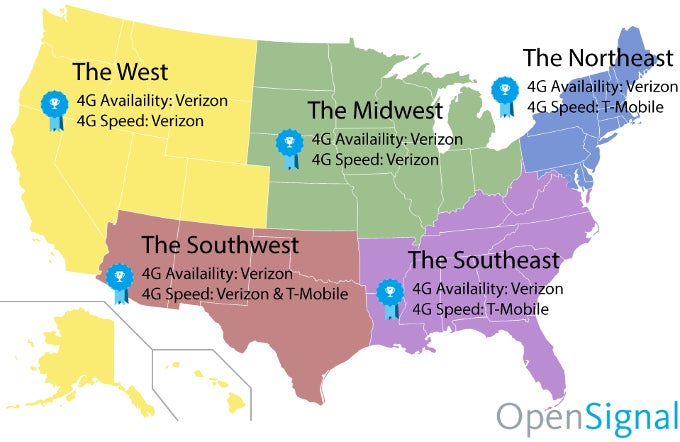 After its
exhaustive report
on overall network speeds, latency, availability and 3G fallback, the crew at OpenSignal now adds one no less important metric, and, for many who are not downtown a big coastal city, perhaps the most important one - LTE availability broken down by regions. As you can see in the map above, the grand five US quadrants were measured against the
OpenSignal app
data for LTE speed and availability across their swaths, and there is one unequivocal winner.
Surprise, surprise, it's Verizon that has 4G LTE available at most places in this grand nation, with T-Mobile slightly behind in the Midwest, Southwest and Southeast quadrants. The difference may not seem much in percentage points, yet these are exactly the spots many people are complaining about with their carriers out in the boondocks.
In addition, Verizon's 4G network served the fastest average download speeds in all regions but the East Coast, and the difference with T-Mobile there is probably not that much, considering that Big Red was
tied with the Un-carrier in overall speeds in Q4
, despite the heavier traffic on its network.