Best iPhone 6 waterproof and water resistant cases
10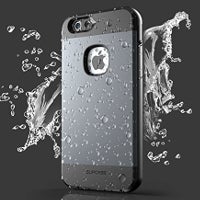 Water. So vital for all living things on this planet, yet so deadly for every piece of electronics lying around us, including our iPhones. And while we'll likely never find a way to live without water, human ingenuity has already dealt with the problem of protecting our gadgets from the harmful effects of water. Meet the colorful landscape of waterproof and water resistant cases designed to boost the toughness of your otherwise glamorous, yet excessively delicate
iPhone 6
.
What we've prepared for you below is a selection of some of the finest waterproof iPhone 6 cases available on the market. Some of them also bring other capabilities as well, such as being fully rugged and sporting effective dust and shock protection, but we weren't really on the hunt for super-tough, armor-like cases that would protect your iPhone from pretty much anything. Instead, we've carefully hand-picked only those water resistant cases that won't turn your exquisite iPhone 6 into a thick, ugly brick. Here, check them out!
Dog & Bone Wetsuit
IP 68 | MIL-STD 810F
The Dog & Bone Wetsuit iPhone 6 waterproof case impressed us with its mixture of nice looks and considerable level of toughness. The case not only comes with IP 68 certification (dustproof, immersion beyond 1 m), but it also covers MIL STD 810F standards, theoretically allowing drops from up to 6.6 feet (2 meters). The Wetsuit comes in three distinct color options: orange, black, and white.
Supcase for iPhone 6
Now, the Supcase for iPhone 6 is a very interesting model, and at a very tempting price, too! The Wetsuit, however, remains in the realm of water resistance, so it's not fully waterproof. While it will generally preserve your device from splashes and rain, it will not do much against complete immersion in water. Instead, the Supcase promises to absorb those nasty impacts that every phone eventually goes through once in a while. Additionally, it also tries to step up the game in the style department. Not only is it tough and has a built-in
screen protector
, the case also includes three interchangeable back plates with different colors: gunmetal, silver, and gold.
New Trent Trentium 6S
The Trentium 6S by New Trent is another good looking iPhone 6 case that will protect your smartphone from water damage. Built around the idea of being slimmer than its counterparts, the Trentium 6S is recommended by happy users for its comfort level and attractive appearance, adding just about 3 mm to the profile of the iPhone 6. A really nice touch is that, similarly to the Supcase, the back plates are changeable, and Trentium 6S also comes bundled with three differently colored plates to choose from: gold, black, and grey. However, as manufacturer New Trent doesn't provide data about any specific certifications for ruggedness, we'd be reluctant to actually drop the phone in a pool of water. Random splashes and drops would be a-OK, though.
LifeProof fre
IP 68 | MIL-STD 810G-516.6
The LifeProof fre iPhone 6 case is among the most popular options when it comes to premium waterproof cases for Apple's finest. The good news is that it's not only waterproof, but also dirt, snow, and shock proof as well. Complete with a small transparent area on its back in order to showcase "the iconic Apple logo," as LifeProof puts it, the fre doesn't seem to be as visually attractive as some of the other offerings we've picked, but it sure is more than capable of providing that much needed protection without adding substantial bulk to your phone.
Lunatik Aquatik
IP 68 | MIL-STD 810G
An upcoming product worth mentioning is the Lunatik Aquatik - a fully waterproof and dustproof iPhone 6 case that looks impressively thin and stylish. With a splash of color and the aid of high-quality features such as Corning's Gorilla Glass and hydrophobic membranes, the Lunatik Aquatik is really shaping up as one of the most premium rugged cases for the iPhone 6 (explaining its steep price tag). Best of all, the company promises a variety of colors, including orange, black, pink, and white. The Aquatik should become available sometime in April.
Bonus: Have you considered Liquipel?
If those more or less chubby cases aren't really your cup of tea, but at the same time, you'd really appreciate having some of that water protection stuff on your phone, a service like Liquipel may be what you're looking for. Liquipel can apply a special water-resistant nano coating to your device and its internals, without even having to disassemble it. The company promises to handle your device with care, although you'll still have to go through the discomfort of shipping your smartphone to their offices for the procedure. After you regain your precious, it still won't be fully waterproof, but it'll be able to withstand random limited encounters with the water element. By the way, the service is not exclusive to the iPhone 6 - it's also available for a range of other popular smartphones, including many Android ones.