'Best in test' US carrier award goes to Verizon's coverage and speed, followed by AT&T and T-Mobile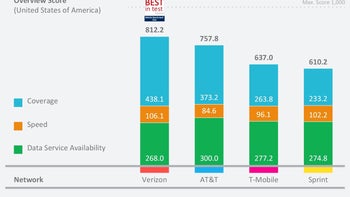 The caveat with Verizon vs AT&T vs T-Mobile vs Sprint coverage, speed, and network availability tests is that the most popular ones are done by US firms whose methodologies often favor this or that carrier, albeit involuntarily. Crowdsourced ones that rely on a single speed-testing app tend to congregate in big cities and put carriers with wider rural coverage in a more disadvantaged position in terms of average speeds, for instance.
Of all the US carrier testing ways, driving around with off-the-shelf equipment is perhaps the best way to ensure a fairly representative sample will be analyzed in the end. This is why Verizon loves to cite the results by
RootMetrics
, while T-Mobile boasts with the crowdsourced data from
OpenSignal
.
The next best thing, however, is crowdsourced data from a non-US testing firm that relies not on techie users that would install a single speed test app, but is rather integrated into 800+ diverse apps, and reports 24/7. This is exactly the case with the German telecom consultants from P3, whose testing algorithms are on 2.3 million US carrier subscriber phones. In the June-August period, nearly 35 billion samples have been recorded from said apps, covering 88.6% of the "build-up area" in the US.
Verizon takes the cake in coverage and speed, gives the others a piece in network availability
That blanket coverage measurement has led to some very interesting rankings of US carriers that consist of three components - network coverage, speed, and availability. The data-crunchers from P3 didn't find anything groundbreaking we hadn't already known yet produced some surprising conclusions.
While Verizon took the top spot overall, followed by AT&T, T-Mobile, and Sprint, it was Sprint that produced speed scores a close second to Verizon's. Granted, there are much fewer people on Sprint's network, and it spans over a much smaller footprint, but when it's there, it apparently delivers. Verizon topped the coverage chart with its stellar rural presence, followed by AT&T and T-Mobile, but such results have never been up for debate, either.
AT&T, however, showed the highest network availability percentage, followed by T-Mobile, while Verizon's giant footprint came last in that metric. It
struggled in that regard
when unlimited data plans were introduced, and is slowly rebounding, it seems.
The P3 Group's methodology relies on data reporting from popular apps that its research subjects are using every day, which is arguably a more reliable method for real-world testing than one dedicated app that would be installed predominantly by techies. Long story short, you'd still go for the carrier that has the best coverage in your area provided that they can deliver the goods at a reasonable price, but at some places, you only have a choice of two to pick from, at most.
Recommended Stories