OpenSignal's regional survey shows T-Mobile and Verizon going neck and neck at the top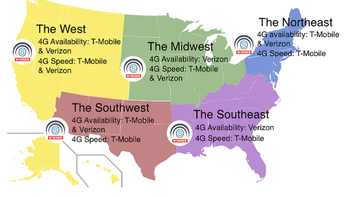 Five years ago this month,
T-Mobile stopped the subsidies and two-year contracts, and the UN-carrier was born
. Since that moment, T-Mobile has become the most innovative of the four major U.S. carriers, and the fastest growing as well. And it seems that all of the work that T-Mobile has been doing to its LTE network,
adding the low-frequency 600MHz spectrum it won in the FCC auction last year
, is paying off in spades.
Back in January,
T-Mobile was the winner of OpenSignal's national survey
and missed a clean sweep by a fraction of a second. Verizon was the runner-up. Now, OpenSignal has released the results of its regional survey, and once again the top two wireless operators were T-Mobile and Verizon.
In LTE availability, Verizon won in two regions. In the Midwest, Big Red's network was ready to go 93.4% of the time, and that figure was 92% in the Southeast. That was good enough for Verizon to win this category in both of those regions. In the remaining three regional areas (Northeast, Southwest and West), OpenSignal called it a dead heat between Verizon and T-Mobile.
The LTE speed category, which was won on a national level by T-Mobile (19.4Mbps) with Verizon second (17.7Mbps), went to T-Mobile in the regional survey. The latter won in the Northeast, the Southeast and the Southwest. In the West and Midwest, T-Mobile and Verizon tied.
The bottom line? Based on OpenSignal's figures, it does seem that Verizon and T-Mobile are the only carriers in the U.S. that are currently delivering for their subscribers when it comes to 4G LTE connectivity.
OpenSignal's results are crowdsourced based on data generated by users of its "4G WiFi Maps & Speed Test. Find Signal & Data Now" app found in the Google Play Store. You can be part of OpenSignal's surveys by installing the app on your Android phone. Simply click on this
link
.
source:
OpenSignal