Best Samsung Galaxy S6 cases and covers for every occasion
15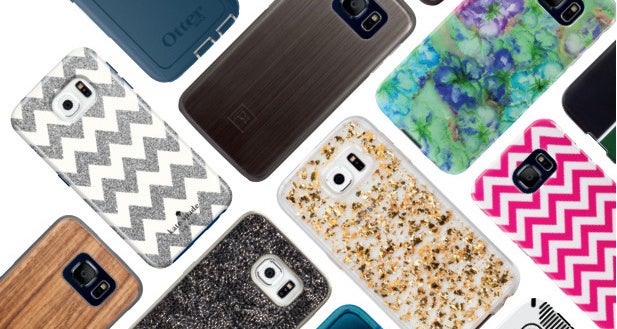 The Galaxy S6 is flying off retail shelves: the new sleek Android flagship phone by Samsung - along with its futuristic S6 edge cousin - have managed to spur a lot of excitement for a good reason. Both phones are good looking, made of quality materials, and feature a remarkably fast hardware that ranks at the very top of all performance ratings. The Galaxy S6 also has one of the best cameras on a smartphone with superpowers in the form of optical stabilization and 4K video recording.
A case costs a tenth (or less) of your phone cost, yet it can save it from fatal damage
If you have bought (or are planning to buy) a Galaxy S6, you might want to put it in a case to protect it from damage and keep it pristine clean or just customize it to look a little bit funkier and reflect your personality better with a floral print on the case or a bit of leather, or why not some glittery shine.
We have looked through the most popular Galaxy S6 cases from legit case makers that are not just random poorly fitting solutions from a distant Asian factory (they could still be made in Asia, but have much better quality control). Among all of them, we picked 12 various cases that should please different tastes and offer the quality you need from a protective case. Let's take a look.
*Thanks to Mobilefun.com for providing us with the Samsung Galaxy S6 cases for review.
Spigen Thin Fit
The Spigen Thin Fit is a remarkable, slim-fit case for the Galaxy S6 for an affordable price of just $15. It comes from a brand you've actually heard of, and offers a snug fit for the S6. Keep in mind that it does not offer protection for the physical buttons or ports.
Incipio NGP
The Incipio NGP is a proven extremely slim case that will protect your phone from scratches. It offers full-on protection, covering both the body and the physical buttons of the Galaxy S6. It also features a very pleasant smooth surface that feels good to touch.
Case-Mate Barely There
The slightly more costly Barely There case by Case-Mate protects your phone all around, covering both buttons and body. Its main function is to protect from scratches rather than impact, as is the case with all thin cases.
Rearth Ringke Slim
A super affordable option by Rearth, the Ringke Slim case is a thin and light translucent case that shows off the color of the glass of your Galaxy S6. It also wraps over the screen just a bit, raising the phone so that the display does not touch the surface when the phone is laid screen-down.
Griffin Reveal
The Reveal by griffin adds just a millimiter on top of the Galaxy S6, keeping protection light and it's also translucent so that the original style of the S6 can shine through.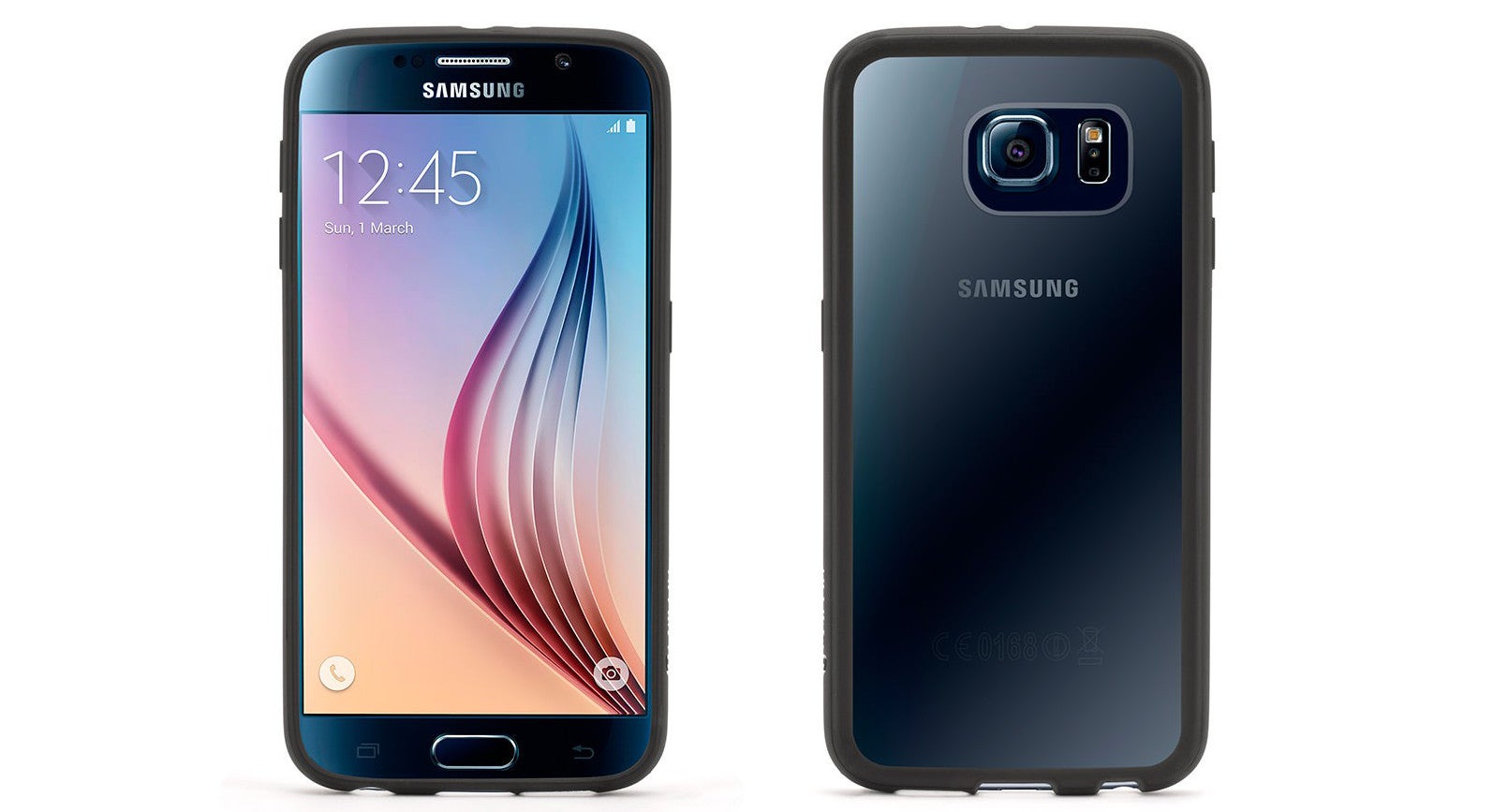 Griffin Reveal
Samsung Galaxy S6 S View Soft Cover
The S View covers have become the de-facto standard for most people with Galaxy series phones as they offer a convenient way to check out your notifications and take/receive calls without having to open the case and unlock the phone. The S View soft cover features a nice soft-touch material and is a fairly thin and lightweight solution that does not add too much bulk and still does a good job protecting the S6 from dents and scratches.
Caseology Envoy
The Caseology Envoy is a surprisingly stylish and affordable case that does an all-around good job of protecting your phone from damage without ruining its looks. Available in several variations, you can get the Envoy for just $15 on Amazon.
Speck - Candyshell Grip Case
The Speck CandyShell has become a classic in the world of phone protection with its stripey design, nice grip and good level of protection for a reasonable price.
OtterBox Defender Series
If you really want to make sure your phone is very well protected (e.g, you know it will be falling from heights), and don't mind the extra bulk that comes with extra security and protection, the OtterBox Defender is arguably the best solution for your needs. It comes with a hefty $60 price tag, but that's still just a tenth of what the S6 actually costs. OtterBox is now offering the Defender series with fresh new prints on the back, a change from the bland single-color versions (those are also available for the conservative minded, though).
Urban Armor Gear
The Urban Armor Gear is the more affordable solution that still offers very good level of protection against damage. It has got that signature military style masculine, rough look, but on the inside features a soft core that absorbs vibrations and keeps the phone safe from damage.
Kate Spade S6 series
If you want more than just protection for your phone, and looks and style are equally important, then you will probably look at cases that add a unique graphical print or a texture. Kate Spade's selection of S6 cases is exactly that, a stylish - but not cheap - family of polka dot, stripes, and other adornment cases.
French Bull
If you're looking for something with bolder, brighter colors and crazy shapes, the French Bull selection of Galaxy S6 cases is what will fit your needs. Slightly less expensive than Kate Spade's offerings, these are some fresh ways to pimp out your new S6.
Platinum collection
We've always been huge fans of wood and texture, and the Platinum collection of Galaxy S6 cases adds that without the downsides of huge bamboo cases. The case is plastic on the inside but the wood and texture is where it matters: on the back.
Case-Mate Brilliance / Karat
If you want some bling on your phone rather than on your wrist (or in addition to that), the premium Case-Mate Brilliance/Karat solutions offer that in two cases that will inevitably catch the eye. At a hefty price of $80, though, there is price to luxury.
Speck Candyshell Inked
Speck's Candyshell Inked selection is a kick-back to those who like the traditions of tattoos and ink with some typical shapes and colors. Mostly floral, these cases will find a warm reception in the hipster-y crowd.
Spigen Wallet S (Faux leather)
As much as we like thinking that we're moving towards a system of cashless payments, we're not there yet. You still need cards to pay in most places and even good old-fashioned paper bills and coins in some places. Wallet cases for the Galaxy S6 allow you to not carry a separate wallet and just stash all those cards and hard-earned money bills in one place, along with your phone. The Spigen Wallet S is a faux-leather case that snaps on magnetically and looks stylish without being too expensive.
Verus Dandy Diary (Faux Leather)

We also love the looks of the Verus Dandy Diary case with its layered, clean structure with separate pockets for cash and cards. $35 also buy you faux leather with some beautiful looking stitches.


Samsung Flip Wallet (Faux leather)

The official Samsung Flip Wallet case for the Galaxy S6 is a bit too simplistic to make it to the top of the ranks, yet it does allow you to keep your cards in one place with the phone, and is the least bulky wallet case offer, also available for a reasonable price.
Case-Mate Genuine Leather Folio
The premium Case-Mate Leather Folio for the Galaxy S6 is crafter from premium genuine hand-crafter leather that looks gorgeous, with the texture and stitches you want to feel from the real thing. It's also got a fairly slim profile.
Ringke Discover (Genuine leather)
Another genuine leather case, the Ringke Discover has a less tight construction and we're not as fascinated with the color options, but for those who want some thing light, a bit cheaper, and still made from genuine leather, this case is not a bad option at all.
Spigen Slim Armor | Tough Armor
Kick back and relax watching a YouTube video while you're on your daily commute! The best way to do it? It involves not having to hold your phone for half an hour, of course, and that's where a kickstand case comes in particularly handy. It also offers a very good level of protection from drops and scratches, all for a very reasonable price.
Belkin Armband
If you are doing sports seriously - be it running a few miles every other day, cycling, trying to hook up your phone to headphones for your own music in the gym, or something else - you know that a phone dangling in your pocket is just not a reasonable option. That's where armbands come to play, and the Belkin Armband is a good and reliable solution that won't break the bank, and it fits every hand.