Best Samsung Galaxy Note 5 cases
9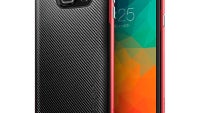 It doesn't matter how they do (we'll let phone makers worry about that), but they do it: case makers are consistently ahead of the curve when it comes to new hot models. Indeed, while everyone and their grans are trying to figure out what that new flagship will be all about, you can count on the likes of Spigen, UAG, Verus, and the rest to already have at least on case model waiting for you.
Having a product line ready for a new hot device is a big, fat bonus for accessory companies, as it not only lets you compete on orders as soon (or even before) the phones in question launch, but also get you some free exposure. With that in mind, it shouldn't be surprising to hear that not only are a whole bunch of vendors ready with cases for your future Samsung Galaxy Note5, but we've already gone through the effort of looking them up and shortlisting only the very best — cases that we
know
you'll like.
Here's what we've got so far:
Spigen
Spigen's Samsung Galaxy Note5 line of cases currently holds just one single item — the Neo Hybrid Carbon. The case comes in three colors, but at $34.99 it ain't very cheap at all.
UAG
Unlike Spigen, rival Urban Armor Gear (UAG) is ready to go full out with the Samsung Galaxy Note5 and has made its entire line-up available for the new superstar phablet. We've got the Scout, Navigator, Rust, Ice, Ash, and Magma I Red series ready to roll, each with the same price tag ($39.95) and virtually the same features, just different in color.
Rearth
While Rearth's Ringke line-up of cases includes four members so far, we'll only be including one today, as the rest have no photos up yet/use rehashed ones from the Note 4 line. So we're left with the $12.99 Ringke Rebel Extreme Tough line, which comes in one color only:
Verus
A total of 5 separate lines of Note5 cases are already available by Verus, all of them priced within the tiny $32.99--$34.99 stretch. Still, all the series on the list come in multiple color options and range in functionality from 'clear view' types through leather wallet ones and tough, rugged tanks of a case.
Obliq
Obliq's portfolio of cases for Samsung's new phablet is rather limited, with just two models available at this point — $34.99
Slim Meta
and
Naked Shield
(with kickstand). As their names suggest, both are intended for buyers who dislike the idea of covering up their shiny new possession in rough cases, so expect less protection, but more style.
Ulak
So far the cases on the list have been pretty hefty with their price tags, but Ulak's range is different in that they blend functionality with affordable pricing (ranging from $9.99 to $14.99). As can be expected the portfolio includes cases for both the protective folks