Best Nexus 5X cases you can buy right now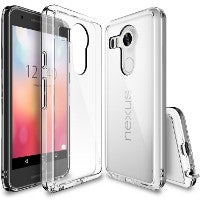 If you're planning on getting the $379, LG-made Google Nexus 5X, you may want to allocate a further $15 to $40 for protection. We mean for a case. If you have any cash leftover after that, you might also want to consider adding
Nexus Protect insurance
, too. But we suspect most will be fine with just that aforementioned case.
Speaking of cases, there's already a whole bunch of them available. Some of them pretty good, too. And for the sake of thoroughness, we also picked a few budget options, as well. Those are for them folks who just can't rationalize spending hard-earned cash on a protective case. We don't get it, but there it is.
Aaaanyways, here's whats available for the Nexus 5X already:
Nexus 5X Folio
Available in both light and dark gray woven fabric, the Nexus 5X Folio is one of two official cases for the 5.2-incher. The Folio is the more thorough of the two, with a flap up front protecting the screen when not in use (no guarantees it won't fly open on its way to meet Mr. Concrete, though). It costs 40 bucks and sports a neat cube pattern.
Nexus 5X Case
Dubbed simply 'Case', the second official Nexus 5X case is your typical representative from the accessory family, with no pesky flaps getting in your way. The case offers a raised bezel, so your screen will be protected — to an extent. Like the Folio, the Case also costs $40 and comes in light and dark gray colors.
Nexus 5X ADOPTED Protective Case
Available from the Google Store, the ADOPTED Protective Case is made of a more traditional material: elastomer plastic. Unlike the official Nexus 5X cases, this one comes across as downright affordable at $19.99. We just hope those cutouts for the fingerprint scanner on the back are large enough for comfortable access.
Speck CandyShell Grip Case for Nexus 5X
So far, we've only looked at cases that offer
some
protection against bumps and drops. This changes with Speck's CandyShell Grip Case for the Nexus 5X, for it meets or exceeds the MIL-STD-810G military-grade drop test standard. As the name suggests, the case is also quite grippy, so accidental slippage is unlikely. Despite all this, it still costs less than the official Nexus 5X cases: $34.99.
Spigen's Nexus 5X Case Thin Fit
Renowned case maker Spigen already has two covers ready for the Nexus 5X, the first of which the so-called Case Thin Fit. Available in black, white, and mint, the accessory costs just $14.99, so pretty affordable on the whole. For that kind of money, you get a slim case made out of hard polycarbonate, with the black model coming with a smooth texture for the back.
Spigen's Nexus 5X Case Ultra Hybrid
If you, like us, hate the fact that cases hide your device from view (but still recognize their value), Spigen's Case Ultra Hybrid might just be what you're looking for.
Available in transparent TPU material, this see-through case costs $24.99 and is not available in any colors other than... opaque.
Rearth's Ringke Fusion Nexus 5X case
UK-bound buyers of the Nexus 5X can already grab a few cases from
MobileFun
, among which Rearth's Rinke Fusion. Alike to Spigen's Case Ultra Hybrid, the Fusion is also transparent and mate out of polycarbonate and rubber. It costs £12.99 in the UK, and $11.99 in the US.