Best Buy frustrates customers with lack of Apple iPad 2 inventory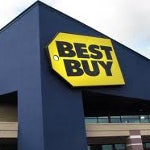 It was a frustrating Sunday for many Best Buy customers who were expecting to walk out of the store with a brand new Apple iPad 2 and instead walked out without the new tablet. A leak of a Best Buy internal memo revealed that the big box retailer was planning a big Apple iPad 2 promotion for Sunday, April 17th. The memo was issued in response to speculation that Apple had "blacklisted" future shipments of the iPad 2 to Best Buy because of a sales dispute.
Following the the memo, the Apple iPad 2 was pictured on the front page of last Sunday's ad with a notice that there would be no rain checks except in Michigan and Ohio where Reserve Tickets were issued instead. In both of those states, each store had a minimum of 3 units in inventory.
With the iPad 2 predominately featured in Sunday's ads, the retailer switched to a "reserve order system" which means that those whom reserved a tablet would have first crack at the inventory in the store. Reserved orders have first priority and once those units and any additional inventory are sold, the store starts taking reserve orders for the iPad 2. This system will be in place for the entire week of the ad. Customers have 48 hours to claim any pre-ordered tablet once it is in the store.
Best Buy had an idea that inventory was going to run out. In the memo, it said, "Corporate Support Teams know that many stores won't be in the optimal inventory situation or have available units to meet our customers' requests for this ad. It will be critical that stores have their current reservation(s) worked through and execute any new reservations effectively to take care of as many customers as possible." Yet, Best Buy did choose to feature the device this past weekend.
While some Best Buy customers were indeed shut out from buying an Apple iPad 2, the good news for Best Buy employees is that they are now allowed to purchase the device from the store.
source:
AppleInsider