Best Android and iOS games on sale today (March 24)
0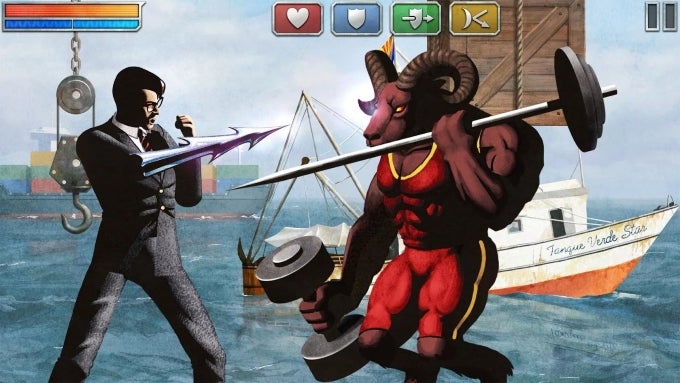 Hungry for same games to play on your mobile screen? You got the cash, we got the deals! Our selection of Android and iOS mobile games on sale today includes some very interesting titles that are worth checking out for anyone looking after high quality, fully featured games with plenty of content to experience.
As always, game sales are quite dynamic and the discounted prices you're seeing below might have expired by the time you are reading this. We still expect them to hold up for the rest of the day, at least!
Avadon: The Black Fortress HD
Download

: iOS

Price

:

$9.99

$4.99
Avadon: The Black Fortress HD is an epic, old-school fantasy RPG in the style of BioWare classics like Icewind Dale and Planescape: Torment. It offers a fascinating story and 40+ hours of gameplay filled with quests, magic artifacts, and a variety of enemies. You serve as the keep of Avadon, working as a spy and warrior to fight the enemies of your homeland.
As a servant of the Black Fortress, your word is Law. Choose among four different character classes with unique spells and abilities, uncover the fascinating history of Avadon and the land of Lynaeus, explore hidden dungeons, discover secrets, find hundreds of magical items, and use enchanted crystals to make your artifacts even more powerful.
NBA 2K17
NBA 2K17 is the most authentic basketball game on Android and iOS, period. It comes with revamped touchscreen controls and physical controller support so you can really put your thumbs to the test. NBA 2K17 also boasts a deeper MyCAREER mode with an Off-Day Simulator, more equipment and attribute options, an upgraded badge system, and many other additions. It's got an expanded EuroLeague with new teams added, alternate Team Uniforms, and anything else to rest your doubts about the game's authenticity.
Lost Journey
"An angel of heaven comes to Jennifer in the form of a butterfly. This plane of existence mirrors the serene world she left behind, but there are secrets – memories – hidden here. As Jennifer collects the shards of her memories, she confronts many trials, but the happy memories and her strength of spirit solidify her resolve, spurring her onward. With her guide at her side, Jennifer sifts through time and space, reverses gravity, and does the otherwise impossible to find her happiness and her way back to heaven."
Quite poetic, isn't it? Lost Journey is a platformer game for quiet moments, made all the more enjoyable by its serene music and uplifting backgrounds. It will tickle your spiritual side, helping you realize that your own strength of spirit will carry you through your trials in life. Or simply have a blast playing it if you don't care all that much about esoterics.
The Executive
Noodlecake Studios always knows what's up. Among all its other bangers comes The Executive, one of the manliest games to ever grace smartphones. Described as a cinematic martial arts action, it has you playing as the CEO of a company infiltrated by werewolves! Since insurance doesn't cover such dangers, it's your job to save your employees – and eventually, the entire city – from the rabid beasts.
You will be beating up every-single-one of them with your corporate fists while pulling off specials like flame kicks, health restoration, and morphing your character's arm into a silver spike to impale foes (aww, yeah!). Oh, and Noodlecake is selling the entire thing – the whole game with all updates, and no ads, forever. Like we said, these guys know what's up!
Adventures Of Poco Eco
An entertaining platformer where your goal is to help Poco Eco and his tribe find their Lost Sounds, solving mini puzzles and completing 12 levels to the tune of dank electronic beats. The game is built around a mixture of electronic music and fine art, featuring tracks by Iamyank – a highly acclaimed artist from Hungary. The combination of colorful visuals, straightforward gameplay, and a playlist of competent electronic music makes for a complete rave inside your smartphone!
ALSO READ