Benchmarking the Motorola DROID BIONIC
58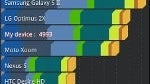 After witnessing three 4G LTE smartphones coming out with Verizon, there might not be as much fanfare with the addition of the
Motorola DROID BIONIC
as being the carrier's fourth offering, but it manages to raise some eyebrows seeing that it's the very first 4G LTE smartphone to pack a dual-core processor. Specifically, its
1GHz dual-core TI OMAP processor
with 1GB of RAM should keep it in good company with some of its rivals. In order to see what it's capable of bringing to the table, we decided to run a couple of benchmark tests to see what it's all about.
Before getting started, it's worth noting that we're so far content with the handset's level of operation as it exhibits responsive tendencies with most tasks – like navigating around its homescreen and running apps. Testing it out further, it's able to move at a good rate too when activating a graphically intensive live wallpaper. And honestly, it seems to move at the same pace that we saw with the Motorola DROID 3.
Running the
Quadrant
benchmark app, we're able to get reasonable scores between
2,098 and 2,389
, which are obviously great and expected, but nothing mind bending compared to the heavy hitters out there. In fact, it's putting up results similar to what we saw with the
Motorola DROID X2
and
3
– so yeah, there's nothing too advantageous with it. Conversely, the
AnTutu benchmark app
is able to dish up a total score of
4,993
with the handset – though, it's still behind some other notable devices like the LG Optimus 2x and Samsung Galaxy S II. Admirable to say the least, the results might not impress people that much, but the real life operation of the handset appears to be tight and responsive thus far.
Besides those two benchmarking apps, we ran a
Ookala's Speed Test app
as well with the handset to see what kind of data speeds it's able to achieve – and honestly, the results are typical. At first, the Motorola DROID BIONIC manages to put up average download and upload speeds of
8.5Mbit/s and 2.0Mbits/s
respectively. But later on in the day, it's able to push the threshold by maxing things out with speeds up to
22Mbits/s download and 10.54Mbits/s upload
, which are insanely fast!
Motorola DROID BIONIC benchmark tests:
Recommended Stories