Motorola DROID 3 benchmark tests
11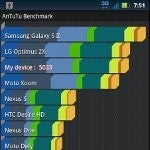 Granted that the Motorola DROID X2 claimed the prestigious title of being Verizon's first Android powered smartphone to feature a dual-core processor, that shouldn't take away a bit from what the
Motorola DROID 3
is packing underneath its carriage. Boasting a
dual-core 1GHz TI OMAP4 processor
with 512MB of RAM and a 30 percent faster graphics chipset over its predecessor, the Motorola DROID 3 is far from being a slouch when it comes to processing power – even more when it's aiming to be one glorified handset!
Even before we started messing around with this highly prized smartphone, we decided to install and run the usual benchmark apps to see what kind of results that this behemoth is able to accomplish. Of course, the platform feels relatively smooth and responsive out of the box – but considering that we're greeted with plenty of eye-catching visuals with its interface, it's unimaginable to see its CPU struggling with most operations.
First up, we ran
Quadrant
where it manages to get scores between
2,076 and 2,467
– albeit, it seemed to put up lower scores initially. However, after some time keeping the handset on, we're able to eventually see consistent scores in the 2,400 mark. Comparing it to the recent T-Mobile myTouch 4G Slide, the DROID 3 is able to put up slightly better scores than its competitor. Additionally, the same can be said about running the
AnTutu benchmark
where the DROID 3 receives an overall score of
5,033
, which manages to inch ahead of the Motorola XOOM. Again, it's still far better than the
4,210 score obtained by the T-Mobile myTouch 4G
. Indeed, the score aren't all that defying compared to some other top-notch devices we've seen, but nevertheless, they're able to deem the DROID 3 fir for the high-end space.
Likewise, the platform experience so far is looking pretty stable and fluid from our quick inspection, which of course if regarded to be the true indicator of a handset's actual performance. Obviously, we'll be playing around with it more to get a better feel of its overall performance.