Beautiful, beyond-Quad HD (1440 x 2560) wallpapers for your Galaxy S6, S6 edge, LG G3, Note 4, and DROID Turbo
7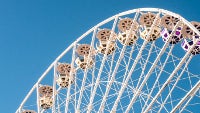 Modern Android flagship superphones come packing quite the hardware, and their displays make no exception. Back in 2014, when LG announced the G3, it was the first to introduce a super pixel-dense, Quad HD (1440 x 2560) resolution display to the masses, and competitors like Samsung and Motorola wasted no time jumping onto the new bandwagon.
Crystal-clear such displays may be, but if the content being fed to them is of lower quality, then their advantage over traditional, 1080 x 1920 pixel resolution displays, is for naught. One area where this applies is your background wallpaper – once you get tired of the built-in stack, which is appropriately high-res, you'll find yourself struggling to get your hands on walls that can fill every single one of those 3.7 million pixels with information. That's where we come in.
Find below a new selection of 29 high res wallpapers, the majority of which are so large that even in landscape they'll light up all your pixels – whether you're rocking a Galaxy S6 or S6 edge, a Note 4, or one of Motorola's flagships (DROID Turbo or Nexus 6). Better yet, they'll prove an equally valuable resource for those among us still riding on a 1080 x 1920 resolution – your device's launcher will downscale them automatically, and they'll still look a notch better than standard, resolution-fitting ones.
30+ Infinity Display wallpapers for phones with tall screens
50+ Beautiful high-res wallpapers, perfect for your LG G7, Galaxy S9, Pixel 2 XL, iPhone X, and others
50+ Awesome high-res wallpapers, perfect for your Galaxy S9, Pixel 2 XL, iPhone X, Huawei P20 Pro, and others
Beautiful, high-res smartphone wallpapers
Beautiful, dark wallpapers perfect for OLED smartphones
Expand timeline
Loading ...