Beastly LeTV Max 2 to be unveiled on October 27th?
9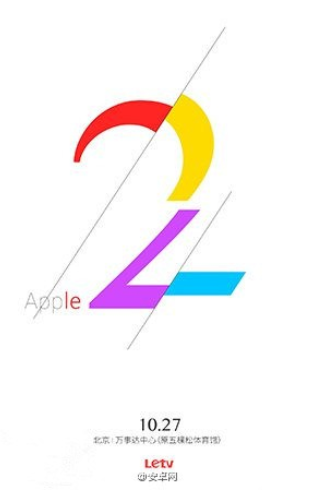 Teaser for the LeTV Max 2 reveals October 27th media event
The LeTV Max was a 6-inch phablet that made the company a smartphone manufacturer to be reckoned with in China. And the sequel looks just as beastly as the OG model. Today, a teaser was spotted on Weibo revealing that a media event will be held on October 27th, two weeks from today. We would imagine that the LeTV Max 2 will be the center of attention.
During the event, we are hoping that the manufacturer explains why it put the Apple name on the teaser, before the number "2." We get that the number indicates the LeTV Max2, and the highlighted "le" in Apple spells out the first two letters of the manufacturer's name. But why do it? Surely LeTV will have the answer when it holds the media event.
As for the phablet itself, a render of the device shows a camera on top of the handset that twists to allow you to use it as both a rear-facing and a front-facing camera. And it would seem that the phone will sport a curved edge display. The latest specs have us looking for a 5.7-inch screen, carrying a 1440 x 2560 resolution. Under the hood is the Snapdragon 820 SoC, containing a quad-core CPU and the Adreno 530 GPU. 4GB of RAM is inside (although there is a rumor
that it will carry 6GB of the stuff
), along with 32GB of internal storage. Since the camera twists, you can shoot a 21MP selfie with it. The device will work with Quick Charge to provide you with a decent amount of battery life, after a short amount of time plugged into an outlet.
Considering the popularity of the OG model, the LeTV Max 2 will certainly be one of the handsets to keep an eye on in China. And if it is stuffed with the Snapdragon 820 SoC, the launch date of the Max 2 will give us an idea when we should start seeing all of those other phones that are waiting for the chip to be available.
We do suggest that since the phone has not been introduced, you take this story with the proverbial grain of salt.
via:
Techgrapple