Be ready for disaster with a 55,000mAh portable Zinc-air charger
8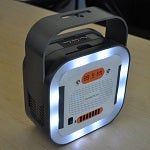 One of the big challenges when disaster strikes, besides ensuring your personal safety, is maintaining power to essential electronics which you may use to keep in touch with loved ones, or get in touch with emergency services.
We saw mobile power-stations pop up around the areas affected by hurricane Sandy, and while that helped somewhat, the reality is that some folks were without power for a couple weeks. Despite these weather events (which occur all over the world), very few people are actually prepared to deal with even the basics when disasters happen.
One solution being pitched by MetAir Power is the MetAir Solstice. It is 100% portable, and is very powerful despite only weighing 3.9-pounds. The reason why it is so light is because of the batteries it uses. The Zinc-air cells are only activated when they are removed from their packaging and are exposed to oxygen. They are not rechargeable, but they can be safely discarded through normal waste channels. Despite their light weight, the stack measures up to 55,000mAh, enough to charge an average smartphone about 20 times. It also has built in LED lights, which can provide about 12 days of light if used 6 hours per day. There is also a built in radio to get news.
The logic in not having rechargeable power cells makes sense, if there are extended outages you are not able to recharge anything anyway. Plus, when or if you forget to keep a traditional back-up solution charged ahead of time, a traditional system will not provide reliable power. The biggest differentiator is the weight, the Zinc-air cells are incredibly lightweight compared to normal battery packs.
If you have been stuck in the cold and dark and grumbled at a lack of preparedness, this might be a handy product to have. MetAir Power has set up a Kickstarter campaign to bring the MetAir Solstice to market. Check out the source link if you are interested. They will ship internationally and expect to have a completed product by this August.
sources:
MetAirPower
(Kickstarter) via
Mashable