Battery covers for the Motorola Droid/Sholes/Tao are pictured
This article contains unofficial information.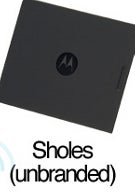 While Verizon has stepped up its Android involvement the last few days, the carrier still has not officially introduced the Motorola Droid/Sholes/Tao to the waiting eyes of the World. In case you have lost some hope and have started to wonder if the whole thing was just the work of a creative fiction writer, here comes some proof that the device is for real. Motorola has released some press shots of the battery covers of the handset, and one for the Motorola Torch. The latter device is aka the Inferno which is a featurephone expected to replace the Krave at Verizon .
As far as the Droid/Sholes/Tao is concerned, the picture shows two battery covers almost exactly the same.The only difference is that one is branded with the Verizon name and logo (similar to the BlackBerry Storm battery cover) and the Motorola insignia, while the other just has the Motorola insignia. The battery cover without the Verizon name and logo gives us a strong clue that an overseas GSM carrier could also be in line to offer the multi-named Android phone.
Motorola Droid Preliminary Specifications
source: EngadgetMobile