Barnes & Noble wants to offer more tablets after bad quarterly report
4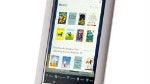 Recently, we heard a rumor that Barnes & Noble could be "
moving away
" from the Nook hardware, and the newest quarterly report from B&N is showing exactly why the company may be looking for a new direction. It was predicted to be a bad quarter for Barnes & Noble, and that's exactly what the company got.
The company reported $2.2 billion in revenue, which marked an 8.8% decrease year-on-year. Digital sales were up almost 7%, but overall retail sales were down, and ultimately it added up to a net loss of $6.1 million. Nook sales were especially bad, with revenue from the Nook down 26% compared to Q4 of 2011.
But, the company isn't looking to abandon Nook. On the topic, B&N said:
The bigger brands have more resonance in that multi-function tablet market than we do. We obviously have to adjust and change. So when I say we have a commitment, we do, but we also have a commitment to change the model and how we're approaching it.
Given that
stated desire to simply move away from Nook e-readers in favor of putting more resources into the Android-forked Nook tablets,
it looks like Nook fans needn't worry too much.