Barnes & Noble may "move away" from Nook
13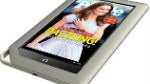 Barnes & Noble has been relegated to a lower status in the tablet/e-reader market, but it has always put up a respectable showing considering its main rival is the insanely popular Amazon Kindle Fire. But, a new report says that Barnes & Noble may "move away" from the Nook hardware and focus on other parts of its business.
The report comes from the
New York Times
, and says that while B&N may not be "completely getting out of the hardware business", the execs are looking to scale back the effort that the company is putting into the Nook. Instead, the company may look to focus on offering content on other platforms. This could mean pushing the Nook app to try to compete with Kindle.
The Nook division of B&N has been losing money, so it's not that much of a surprise. No formal announcement has been made, but there is a chance we could see the bookstore division be split from the Nook division and college bookstore division, because B&N chairman Leonard Riggio may make a bid to buy the bookstore division outright.