Ballmer: Microsoft testing next-gen Surface tablet
32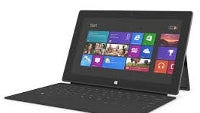 The
Microsoft Surface
tablets were not a success for the Redmond based company. In fact, the software giant ended up
taking a $900 million hit to its earnings in the second quarter
to write-off inventory of Surface RT tablets.This took place
shortly after Microsoft slashed as much as 30% off the price of the slabs
. But the experience hasn't deterred the company and its CEO from giving the device
another chance
.
During an internal event at Microsoft on Friday, CEO Steve Ballmer talked about his concern over low sales for Windows devices in general. He also revealed that the next-generation of the Microsoft Surface tablets are currently
undergoing testing
. The executive didn't discuss much about the new Surface tablets except to say that the new slates will feature "typical improvements" and that the reaction from inside Microsoft has been positive.
During the event, Microsoft also stated that it is more important that Instagram be made available to the Windows Phone platform than scoring a huge number of apps. Right now, those using Windows Phone are relying on third party apps for their Instagram fix,
such as Instance
. It would only make sense that the most popular photo-sharing app becomes available for the Nokia Lumia 1020. How long will this case of unrequited love last?
source:
Neowin
,
MicrosoftNews
via
WMPoweruser