Bad news, Canada. The Samsung Galaxy Tab 10.1 has been delayed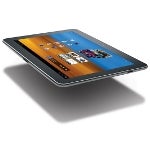 This one is a bit of a mystery, but still just as annoying for Canadian customers. If you've been looking forward to getting your hands on a sweet new Samsung Galaxy Tab 10.1, you're going to have to wait a bit longer.
Both stores have been taking preorders for the tablet since last month, but now it looks like you'll have another month to get in your pre-orders. Obviously it would be better to be able to purchase the actual product, rather than put in a pre-order, but we're just trying to stay positive around here. Be strong, Canada. The Galaxy Tab is still on its way, it's just taking a scenic route in getting there.