Bad Roads 2 tests your cargo hauling skills on the worst of terrains
1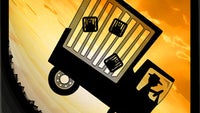 When was the last time you had to move cages of ducks around? Probably never, we assume. Yet as they say, there's a first time for everything. Bad Roads 2 is a great casual game in which you transport the said cargo in a vehicle across an unusually rough terrain. Your goal is simple, yet challenging – to go as far as possible without dropping all cages, and the distance you reach counts as your score. Don't be tempted to go too fast, however, as even a slight bounce may send a few of your cages flying out of the back of your truck. The weather isn't on your side either as lightning flashes will often blind you.
Overall, Bad Roads 2 is one of those games that are very easy to learn and then keep you entertained for hours. The various vehicles and locations that are available in the game add welcome variety and extra challenge for those who crave it. What's more, you collect coins that are scattered across the track. These are used for unlocking new vehicles and terrains. The music is pretty enjoyable, too. Each location has its own background tune, which does a great job at complementing the setting's theme.
Once you get tired of playing Bad Roads 2 by yourself, just find a buddy and challenge them to a 2-player split-screen game. In this mode, each player controls their own truck or car and must get further than the other player across the same terrain.
Bad Roads 2 is a free, ad-supported game. These pop-up every once in a while, but we don't find them annoying in any way. Still, in case you want to get rid of them, or simply to support the game's developer, feel free to purchase the game's paid version.
| | |
| --- | --- |
| Developer: Laurent Bakowski | Download: Android (ad-free version) |
| Genre: Racing | Price: Free ($1.36 for ad-free version) |