Back to the Future: You can pre-order the BlackBerry Bold 9900 once again
38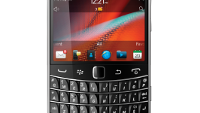 BlackBerry is now accepting pre-orders for the
BlackBerry Bold 9900
in the U.S. and Canada, from its own website. No, you didn't accidentally search for news from three years ago. And no, you are not in the Twilight Zone, either. Back in March, we told you that
BlackBerry CEO John Chen had decided to re-start production of the BlackBerry Bold 9900
(which was known as the
BlackBerry Bold 9930
for CDMA carriers).
At the time that this was announced, we had lauded Chen for his flexibility in giving the people what they want. And what they want is apparently not BlackBerry 10, according to the company's own data. Of the 3.4 million handsets BlackBerry sold in the fourth quarter, 2.3 million were BlackBerry 7 OS models.
The BlackBerry Bold 9900 took the fabulous QWERTY found on the
BlackBerry Bold 9000
and added a 2.8 inch touchscreen with 480 x 640 resolution. A single-core 1.2GHz processor is under the hood with 768MB of RAM inside. The phone has 8GB of native storage, and if needed, a 32GB capacity microSD slot will supplement the memory on the handset. A 5MP snapper takes care of your photographic needs, while the 1230mAh battery powers the device. BlackBerry 7OS is pre-installed.
Priced at $399, the BlackBerry Bold 9900 will be returning to the living starting on June 18th. If it were our decision,
we'd say to wait for the old-school BlackBerry Classic
(formerly the
BlackBerry Q20
) which will have the great physical QWERTY, but with a larger 3.5 inch touchscreen. The "Classic" will be driven by BlackBerry 10.3 OS, and will feature a trackpad and navigation keys, just the way grandpa use to love his BlackBerry. Expected to be launched in November, the BlackBerry Classic should offer outstanding battery life.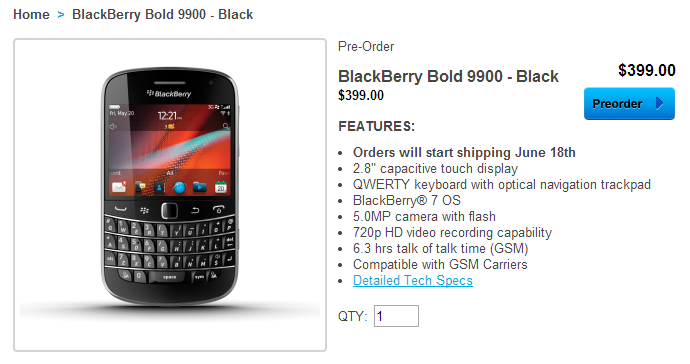 The BlackBerry Bold 9900 can be pre-ordered once again
source:
BlackBerry
via
BerryReview