BLU Studio Energy blows away the competition in our battery benchmark test
24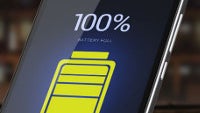 BLU is certainly turning heads of late, especially after announcing a
slew of new smartphones
not too long ago during CES 2015. We've been astounded recently by its mind-boggling thin smartphone in the
BLU Vivo Air
, which impressively enough also features one killer design with a premium quality attached to it. Getting the chance to check out its latest smartphone, the BLU Studio Energy, it's clearly not messing around with its monstrous sized 5000 mAh "
super
" battery.
So far, our battery benchmark test list reveals three smartphones that top the chart – the Motorola DROID Turbo, ZTE ZMAX, and Huawei Ascend Mate 2 4G. Well folks, the BLU Studio Energy triumphs over all those other aforementioned smartphones – catapulting straight to the number one spot. Armed with a 5000 mAh "
super
" battery, which more than eclipses that of the capacities in the other phones, the BLU Studio Energy is able to reach an awe-inspiring mark of 14 hours and 53 minutes from a full charge.
Seriously, it doesn't just beat all the other phones, it actually sets the benchmark for everything else. In fact, there's still a huge gap between it and the second longest lasting smartphone in our list – the Huawei Ascend Mate 2 4G, which taps in at 11 hours and 26 minutes. To be fair, though, the BLU Studio Energy's incredible longevity can be attributed to 5.0-inch 720 x 1280 IPS display, which wouldn't require as much juice when compared to those with higher resolution screens. Paired with that Herculean-sized 5000 mAh battery, there's no wonder why it's able to last longer than everything else we've tested.
The benefit to users of course is obvious, but on the other side of the fence, it takes over 300 minutes for its battery to be fueled back to 100% capacity from a completely depleted stage. To that end, it's the price you pay for having a phone that deliver outstanding battery life. Ultimately, though, the BLU Studio Energy's record indicates the trend we've been aware for some time now – that larger capacity sized batteries are needed. And would you believe it's selling for
$149 outright through Amazon
right now? That's a pretty good steal to tell you the truth!