BBM Music is getting the green light to launch within the next 24 hours in US, Canada, and Australia
2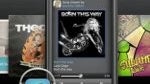 After being in
closed beta for some time now
, RIM has finally given the thumbs up to launch its
subscription-based streaming service
in
BBM Music
for good. Besides the obvious ability to stream specific songs with the service, it boasts some social networking aspects as well since you're able to share your taste in music with your BBM friends.
From the sound of it, the app should become available for download sometime within the next
24 hours
through App World – albeit, it's specifically going to be available to users in the
US, Canada, and Australia
for now. Fortunately though, other countries should soon follow shortly, giving everyone a piece of the action.
Essentially, users will have access to millions of songs through their catalog, which consists of popular record groups such as Universal Music Group, Sony Music Entertainment, Warner Music Group, EMI, IODA: Independent Online Distribution Alliance, VidZone Digital Media and The Orchard.
Still not sold by it? Well, you'll be glad to know that RIM will be offering a 30 day '
try before you buy'
offer, which is happening on a first-come first-served bases. From then on, you'll be required to dish out a paltry
$4.99 per month
to experience BBM Music and all of its glory. Therefore, if you happen to have plenty of BBM friends, you might suggest to them to download the app as soon as it's made available – to take advantage of its vast collection of songs and sharing them within your circle of friends.
source:
RIM