New BBM beta for Android now available from the Google Play Store with several new features
20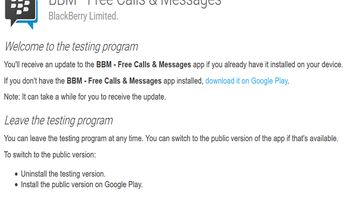 Signing up to be a beta tester for the Android version of BBM is a snap. Just click on the sourcelink at the bottom of this story, and click on the box that reads "Become A Tester." Shortly after that, you will receive an update to the version of BBM that allows you to test new features for the app. Just keep in mind that features added to the beta version of the messaging app could be buggy until developers have these added capabilities perfected. If you decide to quite being a beta tester, you can uninstall the testing version and install the public version of the app.
The latest version of BBM beta has been released. Those who are beta testers for the app will find these new features available according to the changelist:
Albums added to your BBM profile - check out your BBM contact's past posts and images!
Share video in groups; swipe through group images and videos.
Easily share content with more people with the new contact multi-picker!
More dark colors added to chat background.
One new feature not listed allows users to remove sticker packs no longer wanted. To do this, you need to scroll to the end of your sticker list and tap on the "settings gear." Tap on edit, and you'll be able to remove any sticker pack you desire. And yes, they can be added back to your BBM app if you change your mind.
source: BBMbeta via CrackBerry