Award-winning physics game Freddy arrives at the WP Store
2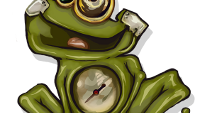 If you've ever played a physics-based arcade game on your smartphone, you know that these can be quite addictive. The amalgam of simple to learn, yet hard to master gameplay and cartoony graphics is guaranteed to please a lot of mobile gamers out there. This combination brought us a lot of interesting and critically acclaimed games, such as Angry Birds and Cut the Rope, and it looks like game developers just won't stop exploiting this successful recipe. MobiTouch is one of these game developers and their latest game, Freddy, which won the first prize in the 2013 Unity3D game contest in the Windows Store category, has recently made its mobile debut and is now currently exclusive for Windows Phone 8 devices.
But let's see what the game is all about, shall we? The gameplay will require you to help a funny-looking steampunk frog, named Freddy, which has a strong appetite for the poisonous colorful balls that drop from a pipe on top. Being just an average hungry frog, Freddy doesn't care about his self-preservation at all and would eat anything within the reach of his tongue, including the aforementioned dangerous balls. It is most certain that eating several of them will result in Freddy meeting his maker, so the players will have to put their thinking hats on and help the cute-looking semi-mechanical frog by drawing solid lines on the screen. These solid lines will make the balls bounce off of them and roll into flasks or pipes above Freddy.
Sounds quite easy, right? Well, it's not. First of all, not everything that drops from the pipe is dangerous – there are some items and power-ups which will sate Freddy's hunger and help players in their quest to save him. Secondly, you'll have to navigate the balls into the pipes with the same color as them. And last, but not least – you will have a limited amount of time to finish each level. This will surely make Freddy quite challenging on higher levels.
The game is still in its beta version, but according to MobiTouch the full version of Freddy will be available by the end of the year. Allegedly, the full version of the game will have more levels, more bonuses, many new improvements, etc. Currently, Freddy will cost you $0.99, but there is a free trial included. Although the game is exclusive to the WP8 platform, it is certain that iOS and Android versions will follow soon, though it is not known when that will happen.
Download: Freddy (
Windows Phone 8
)
source:
WPCentral