Authors claim they've written huge novels on BlackBerries with hardware keyboards
13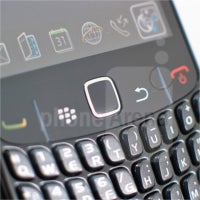 In the past few years, hardware buttons on smartphones have become a rarely used feature, with manufacturers going for virtual keyboards in order to provide more screen real estate for the more media-oriented users. However, BlackBerry has been ever so persistant with not ditching its hardware keyboards, keeping them on most of their devices, and even adding
innovative features
in the latest
BlackBerry Passport
.
So how comfortable is the BlackBerry keyboard? Well, for South African businessman Brett Restall, it is comfortable enough to write a fantasy novel with.
Back in 2003, Mr. Restall had a great idea about a fantasy trilogy, though juggling a couple of small businesses left him no time to sit down in front of a PC to jot down his ideas. So he did it on his trusty
BlackBerry 8520
. When the first novel was in somewhat of a complete shape, he sent 50 pages off to a webiste that connects authors and publishers, and it just so happened that he struck a publishing deal. Needless to say, Mr Restall is now loyal to BB, currently rocking a
Q10
.
A Mr. George "Geordie" Greig, author and the Mail of Sunday editor, released a book about painter Lucian Freud. The biography contains 80,000 words and Mr. Greig claims to have written all of them on his BlackBerry smartphone, due to a crazy work schedule that barely allowed him any free time in front of a computer or typewriter. Of course, editing was done on a computer after that.
Another author – Douglas Shuler from South Carolina – wrote three books on his BlackBerry Curve, among them a 160 page historical fiction.
So, apparently BlackBerry is not wrong with sticking to its iconic keyboard. Do you rock one? If not – are you at all interested in the hardware keyboard?