Asus turns to negative ad campaign to sell devices, expects to ship 1 million ZenFone units in Q2
14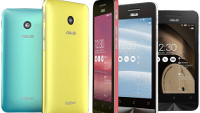 In a crowded Chinese smartphone market, Asus plans on using a negative ad campaign in order to grab sales from a smartphone hungry population. This means that instead of focusing on the great features and capabilities of its own products, Asus ads will show you how the competition screwed up. Along these lines, Asus has already referred to its rivals as idiots, saying that it won't hold back production of its ZenFone to create an artificial demand.
This so-called "Hunger Marketing" is all the rage in China and is relied on by companies like Xiaomi. With this marketing ploy, a small number of units is made available for a particular model. This artificially drives up demand as buyers worry about the phone getting sold out. While
Xiaomi used this technique
to sell such models as its
Xiaomi Hongmi
,
ZTE recently used it on a high end model, the ZTE Grand S II
. In 58 seconds, the Chinese manufacturer sold out 50,000 units of the phone. That is a drop in a bucket
compared to the 400 million smartphones expected to be sold in China this year
.
Speaking of forecasts, Asus expects to ship 1 million units of its ZenFone this year. Now shipping pre-orders in China, Taiwan and Indonesia, the manufacturer believes it will ship 200,000 to 300,000 units in April, 400,000 next month, and 500,000 in June. These estimates come directly from the company's CEO, Jerry Shen. The executive says Asus is confident of shipping 5 million ZenFone handsets this year, and doubling that number in 2015.
The
Asus ZenFone 6
features a 6 inch LCD screen with a 720 x 1280 resolution, powered by a dual-core 2GHz Intel Atom Z2580 CPU with 1GB of RAM, 8GB of native storage, and a 64GB microSD slot. Back and front-facing cameras weigh in at 13MP and 2MP respectively, with a 3300mAh cell providing the power. Android 4.3 is pre-installed.
The
Asus ZenFone 5
has similar specs, except for the 5 inch LCD screen and the lower capacity 2110mAh battery. The
Asus ZenFone 4
features a 4 inch LCD screen with similar specs as the ZenFone 5 except for the smaller screen, the dual-core 1.2GHz Intel Atom Z2520 CPU, 4GB of native storage, the 5MP rear-facing camera and .3MP front-facing snapper, and the 1200mAh battery.
source: DigiTimes (
1
), (
2
)