Asus to out a Zenfone 2 facelift with fingerprint sensor this year, Zenfone 3 tipped to have one, too
15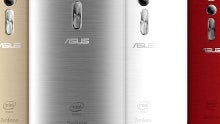 The
Zenfone 2
is proving to be a very popular phone, especially in its 5.5" 1080p reincarnation, which also includes a model with 4 GB of RAM. This one
hasn't even reached stateside just yet
, yet the Asus CEO already spilled the beans on an upcoming Zenfone 3 that might pop up with a fingerprint sensor attached.
Not only that, but the fingerprint recognition element would apparently make a cameo at Asus with an upgraded Zenfone 2 version, which will receive the facelift in the second half of the year, said Asus's chief executive Jerry Shen in an interview with Chinese media.
Now, what would the changes to the updated Zenfone 2 entail in H2, he didn't specify, and talked about the fingerprint scanner only. Given that the 5.5" model with 4 GB of RAM and 64 GB of storage
costs just $320 in the Asus homeland
, we can only imagine what would be an even better value for the money a few months from now.