Asus reveals price and release date for the 64GB Zenfone 2 with 4GB RAM
32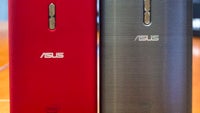 Asus released the
Zenfone 2
last week, just as promised first in the homeland of Taiwan, where the basic 5" version of the phone will start you off at the equivalent of just $158 without any subsidies. That's actually a great price for the entry level Zenfone 2, but all gazes were upon the decked-out 4GB RAM model with the 5.5" 1080p display, and 32 GB of storage out of the box.
This one will surprisingly cost just 8990 NT$, which returns about USD 285 - a pretty stellar tag for such a beast. Granted, when the Zenfone 2 starts its global rollout, the pricing is likely to be a bit higher the further it goes to the western markets, but still it seems that Asus has nailed it this time. Moreover, Asus will also have a 64 GB version of the phone, as this variant was recently listed on its global website, too. Well, that 64 GB model, codenamed ZE551ML, now has an official release date. Asus will start selling it at noon on March 23rd, or next Monday, and it will be the most expensive Zenfone 2 of the whole lineup.
How much? We are glad you asked, as Asus is listing it for 9990 NT$, which translates to about $318 - a pretty great pricing for a phone with 4 GB RAM and 64 gigs of storage out of the box. This month, the Zenfone 2 models will travel to China, Hong Kong, Singapore and France, while in April they will be rolled out to India, Italy and Southeast Asia, while Brazil can expect them in June.
Recommended Stories