Asus teases the Padfone with a "Divided we stand, together we rock" Matroska dolls video
8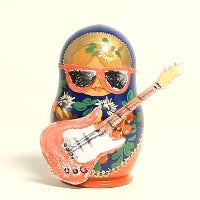 Asus is expected to release a
redesigned Padfone
at MWC in a few days, differing from its
original intentions with the phone/tablet combo
. The Padfone is a concept where you house a handset inside a screen shell to make it a tablet, then dock it into a physical keyboard to make it a computer, thus eventually eliminating the need for three separate devices.
Of course, it will only be as good as the sum of its parts, so Asus has allegedly gone with the TF201 dock from the
Transformer Prime
this time for the Padfone.
Asus has now started ramping up the excitement about its all-in-one modular Padfone by outing a video called "Divided we stand, together we rock" (clever), and also claiming that "1+1+1=Endless possibilities". Watch the teaser below, it's based on Matroska dolls, and is pretty creative.