Asus PadFone quick look
12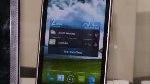 Whereas other manufacturers might seem content with pumping out very neutral looking and predictable tablets, Asus has been one of the few to come to the tablet with things that are extraordinary. Already, we've seen them pushing the envelope with the convertible styling found with the Asus Eee Pad Transformer, but this time around, they intend to keep the smartphone at the heart of a tablet's functionality.
Enter the
Asus PadFone
, yet another
brilliant feat of engineering marvel
concocted by the good people over at Asus – well, that's because it's just so out there! On one hand, it's part smartphone that's running
Android 4.0 Icre Cream Sandwich
and powered by a
dual-core Qualcomm Snapdragon S4 MSM8960 processor
. Under the safe confines of its glass casing, the
4.3" display
of the Asus PadFone looks pretty sharp with its wide-viewing angles and natural color production – still, there's no exact word on its resolution. Nonetheless, it's pretty detailed looking and we'd expect to see nothing more than a 720p display at this point. Finally, the only other thing we can spot from our vantage point is a 5-megapixel auto-focus camera with flash in the rear.
Oppositely, there's the 10.1" tablet shell that accommodates the smartphone by placing it inside a slot in the rear – essentially super-sizing the ICS experience. Obviously, the tablet requires the smartphone in order to work, but seeing that the two are encased within glass, we can't say with much certainty how it all happens. Regardless of that, we have to say that it's something different from what we currently see out there in the market.
Seeing that the two devices are under glass, it's hard to comment on other specific like build quality and performance. But if we'd have to guess, we're quite sure that Asus is going to do whatever they can to deliver a top-notch, yet very unique product to the table. For now, we'll have to
wait until MWC to see this in final form
because as it currently stands, it's merely unfinished.