Asus shows off charging docks for the Nexus 7 (2013)
6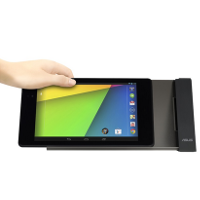 Asus has produced a video showing off a couple of new accessories for the
Nexus 7 (2013)
. The Asus Dock for the Nexus 7 (2013) is built for this particular model only. The built-in USB port recharges the tablet while the dock supports the device for a 60 degree viewing angle. And like the video shows, that support is available regardless if you're viewing something on your Nexus 7 (2013) in landscape or portrait mode. Hooking up your slate to the dock is as simple as sliding the tablet into the accessory. And an HDMI port allows you to project the tablet's screen on a television.
The Asus PW100
Wireless Charging
Stand uses the Qi Charging System to refresh the tablet's battery. Without wires, switching from portrait to landscape is a snap, and the design allows you to prop up your slate at a 60 degree angle. Because it uses Qi, any other device you own that works on the same recharging standard can be recharged using the dock. An LED indicator lets you know when your battery is charging. And as you can see from the video below, the PW100 Wireless Charging Stand uses a pyramid shaped design.
Either accessory will do a good job giving you a great viewing angle in each orientation. Both will be available from Amazon and other retailers, although there is no date of availability. The Asus Dock for the Nexus 7 (2013) will be priced at $49.99 with the PW100 Wireless Charging Stand expected to cost $89.99.
source:
Asus
via
SlashGear