Asus believes its 2-in-1 Transformer devices have a bright future
8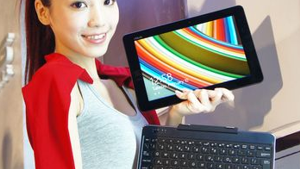 Last month, Asus introduced no less than
four new Transformer Book devices
, all being Windows-based tablet-notebook hybrids with screens ranging from 8.9 to 12.5 inches. According to Focus Taiwan, Asus plans to throw even more 2-in-1 devices into its product mix - most likely also including Android-based Transformer Pads.
Asus CEO Jerry Shen recently said that, "despite a stagnant PC industry", the popularity of tablet-laptop hybrid devices should continue to grow. It's obviously more convenient to own a device that can be either a notebook, or just a tablet, instead of buying two separate products.
Asus can be largely credited for popularizing 2-in-1 tablets. Its first Transformer hybrid device was an Android model introduced in 2011. However, the most successful (until now) is a Windows model: the
Transformer Book T100
, sold in more than 3 million units around the world since 2013.
The market for 2-in-1 portable devices is expected to grow significantly this year, with shipments likely to surpass 13 million units (from about 8 million units in 2014).
source:
Focus Taiwan