Asus ZenFone Zoom hands-on: 3x optical zoom at your fingertips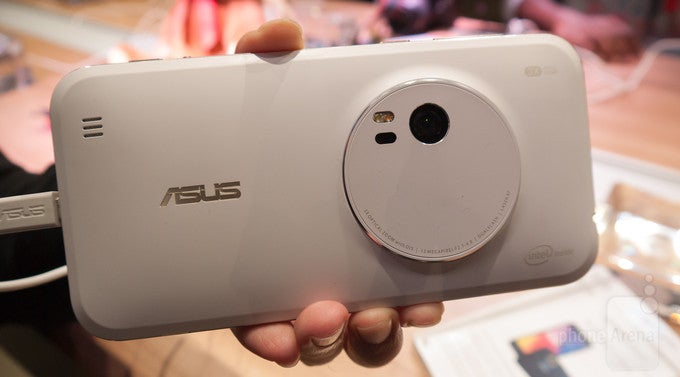 The Asus
ZenFone Zoom
is an upcoming camera-centered smartphone, sporting a huge camera hump on its back, somewhat similar to the Nokia Lumia 1020. The former was announced way back in January 2015, but has yet to be given an accurate release date. Still, Asus does take every opportunity it can get to showcase prototypes of the device – this year's IFA included. Let's take a look!
The ZenFone Zoom touts a large camera module, which houses a 3x optical zoom mechanism, and a 13 MP sensor. Understandably, the phone has a pronounced hump on its back, but its screen-to-body ration is less than flattering as well. Combined with a 5.5" diagonal for its screen, this all makes the ZenFone Zoom a bulky piece of hardware.
Of course, anyone in the market for a camera-centric smartphone is usually willing to overlook some extra girth. So, size aside, the ZenFone Zoom offers pleasing crafting materials, with an all-metal chassis and a chamfered frame. On the left side of the handset, we have the power button and volume rocker, as well as the camera shutter key and video record button – that's right, these are separate and we find it to be a neat idea, especially for a camera-phone.
Display
Asus outfitted the ZenFone Zoom with a 5.5", 1080 x 1920 display (401 PPI), protected by Gorilla Glass 3. Unfortunately, we did not have extensive access to the device and were unable to draw adequate conclusions. From what we saw, the display looked noticeably bluish, with punchy colors popping out. In terms of detail – rest assured that the display is crisp and clear.
Interface
Asus' proprietary ZenUI makes an appearance here, laid on top of Android 5.0 Lollipop – though, that may or may not change by the time the ZenFone Zoom is released. The ZenUI is well-known for packing a bucketload of features and customization options, theme store and ZenMotion functions included. It's also nice to see an Asia-based manufacturer's UI actually have an app drawer.
The ZenUI definitely has a learning curve and casual users may feel a bit overwhelmed. However, if customization is your middle name, you will enjoy tinkering with it.
Processor and memory
The ZenFone Zoom is equipped with a 64-bit, quad-core,
2.3
GHz Intel Atom Z3580 – a high-performing SoC, which launched back in Q2 of 2014. It's coupled with the generous 4 GB of RAM, which should, hopefully, take care of all of the heavy-ish interface's processes with no issue. We weren't able to extensively test it just now, due to limited access.
Storage-wise, Asus was quite generous, and outfitted the ZenFone Zoom with 128 GB of internal memory, which the user can further expand via microSD card of up to 64 GB.
For this model, it's only natural that the camera is what should draw the most interest. Unfortunately, we were not allowed to spend time testing it, as the unit shown was apparently a prototype, still with some kinks in it. So, all we have to go on right now is promise:
Asus touts a 3x optical zoom on the camera module, which should let you magnify images without sacrificing detail and quality. The rather large hump on the back of the phone may lead some to believe that the sensor's resolution is something insane, but it is, in fact, 13 MP. This doesn't mean that the camera wouldn't be able to deliver in terms of quality – a 13 MP sensor can certainly make some seriously stunning shots, provided the software and hardware are working in unison, so it all depends on whether Asus pulls it off or not. Additionally, the snapper is assisted by a laser auto-focus and optical image stabilization – the ingredients needed for quick, guaranteed quality shots.
As mentioned earlier, there are two physical buttons dedicated to the camera – a shutter key and a video record button. We like that, as it frees us from fiddling with the software, should we want to switch between camera and camcorder. However, the shutter button is just a simple clicker, instead of a two-step key, which we found a bit of a disappointment for the type of phone the ZenFone Zoom is trying to be.
The handset's selfie snapper doesn't try to be anything out-of-the ordinary, however. It packs a 5 MP sensor, which should be quite enough for quality mugshots.
Expectations
From our limited time with the phone, we can say that it looks like a promising camera phone – especially since we haven't seen anything like the Galaxy K Zoom or the Lumia 1020 in quite a while. The hardware looks like it can carry some weight, and the phone doesn't look bad, girth aside. The ZenFone Zoom definitely has its niche to fill and all that is left for Asus is to deliver on the promises of superb pictures.