Asus Transformer AiO hands-on
10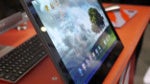 Asus
isn't afraid to experiment with different form factors, which is undeniably evident by simply looking at their existing portfolio. From
convertible style tablets
to bringing the
smartphone and tablet form factors together
, Asus has been one of the more proactive companies making strides in offering a wide array of form factors with its offerings. Case in point, their latest all-in-one monster in the
Asus Transformer AiO
– one part desktop, one part tablet.
Sitting snuggly in its cradle, we'd be hard pressed to think for a moment that this equipped all-in-one desktop PC also doubles as a ridiculously over-sized tablet. Sporting an
18.4-inch 1920 x 1080 LED backlit touchscreen display
, some wouldn't fathom it to be a sizable mark for an all-in-one PC, but it's obviously massive for a tablet. Continuing to differentiate itself from the crop, it's nice that we're given a whole lot of versatility with this one – even more when we can switch between
Windows 8 and the Android Jelly Bean
experience with a quick touch of a button.
Somehow, we take fancy in knowing that we can bring along the Asus Transformer AiO on all of our travels, despite its size and weight. However, when it's parting ways with its stationary stand, we're only able to run
Android
, since it's packing an
NVIDIA Tegra 3 processor
under the hood. In order to run
Windows 8
, it needs to be attached to its base stand, which so happens to tuck away beefier hardware under the hood – like your choice of either
Intel's Core i5 or i7 processors
. To tell you the truth, it's even more impressive when we can run Android on the Asus Transformer AiO, and while it's attached to a separate display, it can run Windows 8 too!
Needless to say, not everyone is going to be thrilled by the possibility of bringing along their desktop PC everywhere, but if you do, there's no arguing the point that this is made for your specific taste. As it stands, the Asus Transformer AiO is available in a wide range of configuration – and it starts at
$1,299
.