Asus Padfone 2 Review
22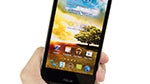 Thanks to our partners from
Tekshop
for providing the review unit.



Introduction:
Last fall, we had the chance to check out the specialized device in the
Asus Padfone
, which introduced us to a whole new gadget category worth applausing. We're already seeing its successor in the aptly named
Asus Padfone 2
. Naturally, it's blessed with the usual set of hardware upgrades we'd expect to find, but in the world of always-evolving tech, does it stand a chance at attracting consumers to its uncanny dual-form functionality?
The package contains:
microUSB cable
Wall Charger
Quick Start Guide
Product Safety and Warranty Guide
Design:
Independently as a phone, the Asus Padfone 2 doesn't deviate much in terms of design over its predecessor, and in fact, the only noticeable new thing is its larger size in footprint – to accommodate the bigger screen. Utilizing a wedged tapered design similar to what's used by its Zenbook Prime ultrabooks, it gives the handset a very distinct look over other highly respected smartphones. Sure, its spun plastic casing might not be regarded as premium, but regardless of that, it contributes in making the handset deceptively lightweight. Obviously, it's not often we see Asus making smartphones, but we're so darn impressed with what they have here.
Despite it being a mostly stock Android 4.1.1 Jelly Bean device, Asus opts to give the handset the usual trio of capacitive
Android buttons
beneath its display. On the opposite end, we naturally find its earpiece, light & proximity sensors, and
front-facing 1.2-megapixel camera
.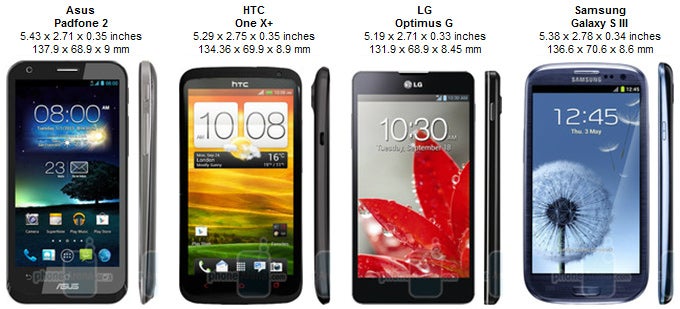 You can compare the Asus Padfone 2 with many other phones using our Size Visualization Tool.
Looking
around its sides
, we appreciate the matte aluminum trim it's sporting, which adds a sprinkle of elegance to the device. Furthermore, the power button and volume control on the right edge of the handset are raised and offer springy responses when pressed. Rounding things out, it feature a noise-cancellation microphone, nanoSIM slot, 3.5mm headset jack, microUSB port, and standard mic.
Higher than what we typically see, the Padfone 2 is packing along a beefy
13-megapixel auto-focus camera
, which features an LED flash and 1080p video recording. In close proximity to it too, is the handset's speakerphone grill. And lastly, since it's donning a closed design, there's no access to its internal battery – nor do we find a microSD card slot.
Display:
Continuing to amaze us, this is sporting one heck of a sharp looking display that really gets our attention from the onset. With its sizable
4.7-inch 720 x 1280 Super IPS+ display
, it no doubt produces the same level of detail we're accustomed to seeing nowadays on rival high-end devices, which is attributed to its pixel density of 312 ppi. At the same time, however, its Super IPS+ display is extraordinary vivid with its warm colors, modest viewing angles, strong brightness output, and high contrast – all of which combine to offer superior outdoor visibility. Frankly, we're mesmerized by it!
Padfone Station and Docking:
If you are not familiar with the Padfone concept, it consists of a smartphone that docks into a tablet "station" – the station features its own internal battery and display, but is not a fully featured tablet – it doesn't work without the phone, which provides the processor, memory, etc.
This time around, Asus decided to change how the smartphone is docked into the
Padfone Station
. Easier than before, the handset is simply requires being slid into the slot in the rear of the Padfone Station, where it makes the connection.
Specs-wise, there isn't anything too extraordinary, seeing that it features a
10.1-inch WXGA (1280 x 800) IPS display
with Corning Gorilla Display. Indeed, it's not the most detailed thing out there, but nevertheless, it's sufficient enough to accept and use. Looking at the design, we're somewhat irked by its choice of using a soft touch matte finish – mainly because it doesn't quite contrast well with the spun plastic rear casing of the smartphone.
Asus Padfone 2 360-Degrees View:
Recommended Stories