Asus ROG phone shows up on Finnish carrier's website, costs more than $900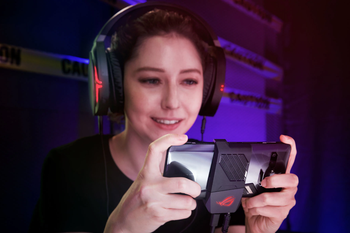 A user on the social media website Reddit noticed that the Finnish carrier Telia is now accepting pre-orders for the
Asus ROG phone
. The gaming centered smartphone was
announced earlier this year
, but this is the first time we see it with a price from a reputable source.
The €999 price on the website translates to about $1150, but keep in mind that includes VAT, which in Finland is 24%. If we remove that, it comes to roughly $930. The price is steep either way, but the pre-order comes with a free ROG Delta Headset with USB Type-C valued at $190. The headset features the glowing RGB Republic of Gamers logo just like the one you will find on the back of the phone and is a good pair for the device not only style-wise, but also functionally. You can connect the headphones to the AeroActive Cooler's USB Type-C port to keep their cable out of the way when gaming. Asus has thoughtfully included a 3.5 mm jack on the cooler as well as on the phone itself.
The AeroActive Cooler is an accessory that comes with the phone. It has a small fan and you can attach it to the device to prevent overheating during intense use.
According to the listing, customers can expect the delivery of their phone starting week 38, which begins on September 17th.
It's unclear if the pre-order deal will be similar in other countries, but we can expect offers from other carriers to start showing up soon as well.