As Windows Phone share grows, some see Android KitKat for low-end devices as a direct answer to Lumia 520
25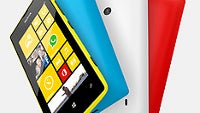 Market research firm Kantar has released its Q3 mobile industry report, and the verdict is the same as that of
ABI Research last week
- the biggest mover is Windows Phone. Granted, Kantar's numbers cover the five major European markets, where Windows Phone sales have been particularly strong on account of Nokia's brand name recognition, as opposed to the US.
Still, Kantar reminds that on average one of ten smartphones sold in UK, Germany, France, Italy and Spain is a Windows Phone. That predominantly means a Lumia, as Nokia makes the vast majority of phones with Microsoft's mobile OS. The leap in Europe comes on the heels of such a WP bump in places like Australia and Latin America, and Kantar's Dominic Sunnebo has an explanation:
With the smartphone market in developed countries so congested, it is emerging economies that now present manufacturers with the best opportunity for growth.

Nokia dominated in Latin America for many years, and while its popularity declined with the fortunes of Symbian it now has an opportunity to regain the top-spot. The majority of consumers in Latin America still own a Nokia featurephone and upgrading to an entry level Lumia is a logical next step. Price is the main barrier in developing markets and the budget Lumia 520 opens the door to smartphone ownership for many.