As AT&T faces Judge today, CEO says no T-Mobile deal will lead to higher prices for everyone
58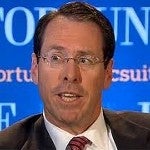 AT&T is due back in U.S. District Court today in relation to the suit filed against it by the Department of Justice. The DOJ seeks to block the carrier's $39 billion purchase of T-Mobile and the visit to the courtroom today by both parties is simply for the Judge to make sure that
both sides will be ready for the February 13th trial
, and to check on the status of separate lawsuits filed by C-Spire and Sprint to block the purchase.
This is AT&T's first trip to court
since it withdrew its application for the deal with the FCC
. While some feel that the judge will press AT&T to make a decision on whether or not it plans on continuing to seek approval of the deal, nothing that AT&T has done since withdrawing the application from the FCC has
suggested that it is giving up on closing the purchase
of the nation's fourth largest carrier. In fact, the only reason why the application was pulled was to prevent the FCC from
voting on an order to have the deal looked at by an administrative law judge
.
Another AT&T competitor was recently added to the case when broadband wholesaler LightSquared argued that without an FCC application, there is
no plan on the part of AT&T to complete the merger
. But nothing prevents AT&T from resubmitting an application if it should win the trial against the DOJ.
Meanwhile, AT&T's CEO Randall Stephenson says that blocking the deal will result in
higher prices for everyone
. If the carrier can't add T-Mobile's pipeline to its current network, it will end up with constrained capacity that will result in price hikes. Talking at a Captains of Industry interview series with Bloomberg News Chief Norman Pearlstine at the 92nd Street Y in New York, Stephenson added that "
regulators can't keep up with the changes in the industry
."
source: BusinessWeek (
1
), (
2
) via
TmoNews