Are you satisfied with the battery life of your smartphone? (poll results)
49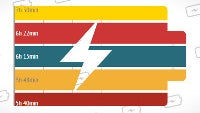 Considering
our recent study into historical, industry-wide battery life
, and the surprising finding that it hasn't really progressed almost at all since the early days of 2014,
we thought we'd check with you
. That is, are
you
satisfied with what your current smartphone offers in terms of endurance?
While we're far from the olden days of week-long battery life, it appears that our community at least, is split in two halves. To a varying degree, 50% of the participants are content with the resilience of their current handheld, while the other 50% or so aren't. More specifically, nearly 14% are
very satisfied
, while nearly 10% say theirs is abhorrent. Less extreme statements make up the bulk of the votes, with a near tie between folks who feel the battery life provided by their smartphone is okay (~37%) and those who are simply unsatisfied (~39%).
To tell you the truth, we didn't expect an outcome this even and were anticipating a significantly grimmer takeaway. In this case, however, we're happy to be wrong.