Are you planning to install the new public iOS 10 beta?
11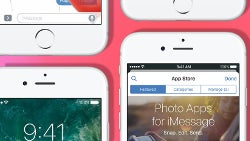 With iOS 10, Apple introduced those in-your-face interface changes its predecessor couldn't, as iOS 9 was mainly focused on under-the-hood optimizations, like speed and security. We have a brand new Lock screen with rich notifications, widgets and quick camera access, a more interactive Peek preview that utilizes
3D Touch
on the
iPhone 6s
and
6s Plus
, as well as a brand new
Apple Music
.
Not only that, but Apple decoupled the stock apps from the operating system for faster updates, and significantly enhanced iMessage, making it possibly the most full-featured secure chat app out there. That's not all, however, as when we installed the iOS 10 Developer Beta we noticed a veritable smorgasbord of even smaller, but svelte features that Apple didn't have time to mention in the keynote, or list them on its website - like the Clear All option in the notification center, or the Close all Tabs feature in Safari.
Now that the
public beta
got released for a general preview, so everyone with
iPhone 5
and above can install it on their handset, we would like to ask you if you indeed tend to do so. Choose from the poll below, and tell us which new feature would be the main reason for considering the installation of the newly-minted public beta of iOS.