Are you getting the Nokia Lumia 1020?
99+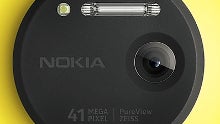 Given that Nokia managed to combine in the
Lumia 1020
both technologies it has developed for years to rethink mobile photography from the ground-up - the 41MP PureView sensor and the OIS tech that helps it produce blur- and shake-free visuals, we can easily call it the best cameraphone ever created, or simply the best camera on a phone.
So far, before the limited launch of
Lumia 925
, the choice was between the
Nokia 808 PureView
, which makes great photos and records awesome stereo sound, but is running the aged Symbian OS, or the generally available chunky
Lumia 920
with OIS tech.
Now that we have those goods combined in the
Lumia 1020
, and sprinkled with a
second generation image stabilization suspension
for the huge sensor, as well as pixel oversampling during video recording, not to mention all the manual controls in the Pro Camera app, we wanted to ask you whether you'd be considering the 1020 for your smartphone collection if that's the Nokia you've been waiting for.