Are we witnessing the fall of Apple?
80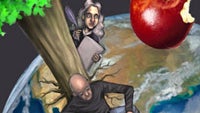 Apple stock has plunged to another low today and the company is no longer the world's most valuable, falling behind Exxon Mobil. But it is still the most valuable tech company, and that means a lot. Yet, Apple stock has been on a downward slide for quite a while, and it seems it just continues going down and down.
Could the lack of Steve Jobs' leadership or the quick rise of Android have pushed Apple out of relevance? That is definitely not the case today, but commentators are increasingly worried that it might happen in the future.
Folks from MoneyChoice have now compiled this interesting infographic summarizing Apple's recent stock price fluctuations and mixing in its product launched. Take a look.
source:
MoneyChoice.org