Are we there yet? Google Maps may soon let you share your ETA with friends
9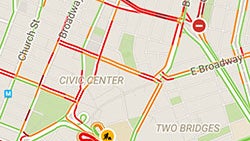 No one likes showing up late to an engagement, but even when we do our best to plan ahead and try to arrive on time, fate has a nasty habit of throwing us a curve ball. Whether we're talking about traffic jams or public transit delays, there's a lot that can go wrong and slow us down when we're on our way somewhere important. But now it looks like
Google Maps
could be about to pick up a tool that will at least help us keep people informed as to our progress, with evidence surfacing for upcoming ETA alerts.
Yesterday we took a look at
the new Google Maps v9.26.1 for Android
, including updated search-along-route tools for multiple transit modes. And beyond the features that were going live in that release, we also learned about unused code in the app that appeared to reveal work on in-development features like a new "Discover" mode. It turns out those were just the tip of the iceberg, and the app's files also include references to a new way of sharing ETA info.
The tool appears to give users the option to share both their destination and estimated time of arrival with interested parties – there's even a mode that will let them know about the general traffic conditions (light/heavy/usual) you're facing.
In addition to manually triggering such notification messages, the app should also have a a way to automatically send out updates throughout your journey.
Hiding within the lines of that APK are even more upcoming features just waiting to be fleshed out: warnings about accessibility, location history maps, shortcuts to frequently used destinations, and more. As always, it's up to Google to decide on when it's going to finish work on these abilities and make them accessible to the Maps-using public.
source:
XDA-Developers
via
BGR