Are we about to see Android handsets with NFC?
This article contains unofficial information.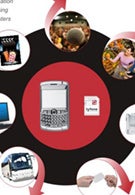 The manufacturer of NFC hardware (
the technology itself was recently renamed to N-Mark
), NXP Semiconductors, has disclosed quite interesting details on the matter. An internal company source claims there is a pretty good chance that we actually get to see the technology that allows for short-range wireless communication between consumer electronics enter the mass market on Android-based handsets by the late 2010 or early 2011. The cool thing about the technology is that it permits wireless transfers of encrypted information over short distances, meaning it has the potential to turn your cell phone into a handy means of payment that will allow you to easily buy things like public transport tickets. The stumbling block that prevents the technology from entering the rapidly expanding Android world seems to be NFC software is based on specific APIs and not open source interface.
Truth be told, we cannot say NFC is hugely popular around the globe today and consumers are far from mesmerized by it. This, however, can change quite fast when Android-based handsets integrating the technology start rolling out.
via
Phandroid