Are streaming music services good for fans, but bad for music artists?
9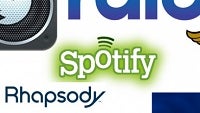 Thom Yorke and Nigel Godrich of Radiohead fame have started an interesting "meaningless rebellion" against Spotify which began with the announcement that their latest band Atoms for Peace was pulling its music off Spotify because the model is "bad for new music."
Yorke's solo album, The Eraser has also been pulled from Spotify. Centered around the criticism is Spotify's model and it being geared to pay artists based on the overall share of streaming taking place. It stands to reason that established artists and record labels make more from that.
Godrich tweeted, "Streaming suits catalogue…but cannot work as a way of supporting new artists (sic) work." He also noted that others are too afraid to speak up out of fear of losing what is perceived to be valuable exposure. Yorke said, "Make no mistake new artists you discover on #Spotify will no (sic) get paid."
Spotify released the following statement in response:
"Spotify's goal is to grow a service which people love, ultimately want to pay for, and which will provide the financial support to the music industry necessary to invest in new talent and music. We want to help artists connect with their fans, find new audiences, grow their fan base and make a living from the music we all love.

Right now we're still in the early stages of a long-term project that's already having a hugely positive effect on artists and new music. We've already paid US$500m to rightsholders so far and by the end of 2013 this number will reach US$1bn. Much of this money is being invested in nurturing new talent and producing great new music.

We're 100 per cent committed to making Spotify the most artist-friendly music service possible, and are constantly talking to artists and managers about how Spotify can help build their careers."
While the statement does not actually address the issue levied against it, there is another angle to remember when it comes to Spotify, and other music streaming services, may be having a positive impact on music piracy. Moreover, we are sure that not every artist feels this way. While that is good for the record labels, if the streaming models turn out to short change the song writers, this discussion will certain take an interesting turn.
Just recently with Apple's run up to introduce iTunes Radio, the company that arguably single-handedly changed the nature of the music industry was having some difficult times negotiating license fees with the labels. Given the size of those players it is easy to see how small labels or up-and-coming artists feel the pressure to "play ball" at the expense of being able to make a living.
Sources:
Thom Yorke
(Twitter),
Nigel Godrich
(Twitter) via
PCMag.com
and
Venture Village